Aegean Resort is an elegant and responsive hotel WordPress theme powered by CSSIgniter. If we talk about it's unique features then it has custom post types and listing options for all key contents. Besides that, you will find custom widgets to create unique homepage. The theme serves you with custom page attributes that offers various layout options.
If you are into accommodation business then you have to create a website to get bookings. This theme helps you to choose multiple languages, and insert booking form in contact section. So, you will have nice website that promotes rooms, rates, videos, photo galleries, services and everything to bring more bookings.
Visit : Mozzy Theme Review – CSSIgniter
Hotel Specific Features : Aegean Resort
4 Content Types : Before we proceed any further, let me tell you that CSSIgniter offers custom post types support for all features. That means, you will not be using extra plugins to create listings page for Rooms, Galleries, and Videos. It won't take that long time to add new slide, gallery, room or video from back-end pots type.
Every post type is made up of custom listing fields, so you can easily embed video, and create gallery for hotel photos. Besides that, it has great features to create interactive slideshow and or detailed rooms listings as there are custom fields given for content integration. It won't just save your time but also speed up content listing, especially for hotel owners who don't know coding.
Room Listing Page : Create a page which shows all rooms which has been listed by "Rooms Post Type". Aegean Resort WordPress theme brings a page template that provides layouts with 2 and 3 columns in attributes list. Once you set page attribute then you will see "Rooms Options" box below page editor area. This is the place where you can choose "Base Category" which shows rooms from only selected category.
If you want to display all rooms and suites on one page then you can choose "All" category option.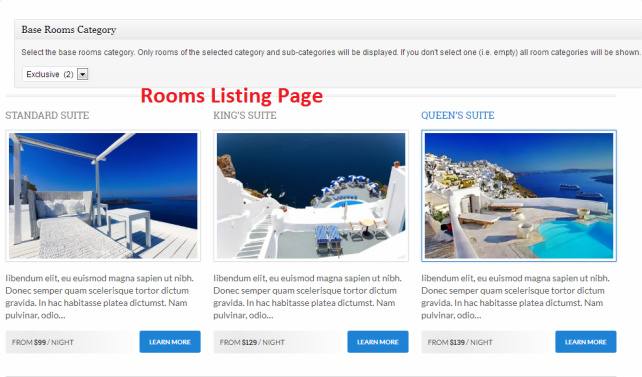 Check : Andros CSSIgniter – Hotel Resort Theme
More Details : This responsive hotel theme supports all devices so you will be getting visitors from mobiles and everywhere. The theme provides WPML (plugin) support to start multilingual site. You can also use "Weather Widget" using Yahoo! Weather API code to display weather condition of your area. This is good way to let travelers know about weather condition.
Other Benefits : CSSIgniter
Booking Page : Any hotel business needs online booking system which brings direct inquiries from visitors. If you want to use external booking service then you can use it without any issue. But, Aegean Resort theme provides a booking request form which helps visitors get in touch with you with single form. For this process, you have to create "Booking" page using "Booking form" template.
Once you publish the page then you can visit Settings under CSSIgniter options panel and choose "Booking Page" tab. This section allows you to insert email where you will be getting al booking inquiries from the booking form. So, you can follow back all booking requests and confirm their booking in your own way.
Adding Rooms : This rooms listing options panel permits yo to add all the room information with media contents. The rooms post type provides custom fields where you can add amenities, price, photo gallery, video, and more. Besides that, hotel owners can add custom room title, featured image, and also mark room as an Offer.
The rooms listing can also have a slider that would display rooms photos using galleries. The way it shows a big slider on the top of the page will attract user's attention to check all room areas. The amenities list is shown in nice and clear way so user can easily get idea about all facilities available in particular room type.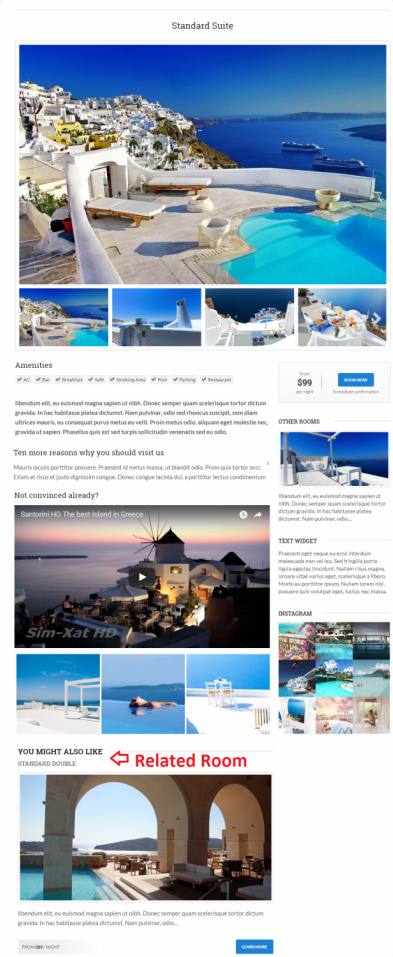 The right of side shows a box with Price and "Book Now" page which takes user to booking section. The bottom section shows "Related Rooms" which creates good suggestion point to check other similar rooms.
Homepage and Theme Options : Hotel Theme
Frontpage Options : Aegean Resort WordPress theme is powered by widgetized layout. So yo will be using custom widgets which has been specifically provided for homepage. If we talk on widgets then CSSIgniter offers total 10 widgets and out of them 5 are for homepage. That means, hotel owners just need to drag and drop widgets in right order. The 2 home widget sections include space to display rooms and testimonials.
So it is going to be great way to highlight best rooms with 3 columns space. The top of the page shows an image slider that shows big slider with images. You can add image slider on homepage to show best rooms, and other elements. The slider rotates images automatically and also shows title (slide) and navigation arrows.
Header/Footer : The header shows logo and navigation menu on the top area. Whereas, footer is located on the bottom with global widget space. Any widget that you show here becomes visible for site-wide. The demo shows a rooms search bar in "Above Footer" widget area. The bottom section provides extra widget columns to display latest blog posts, social links, contacts or anything.
Final Words : Entire theme is managed from one place called "Theme Options" which is powered by customizer. The options page controls design, header, footer, colors, fonts, and everything. The gallery listing page also provides custom with 2 and 3 columns options. The theme let's you create blog page to share news, video page to share travel videos and optimize all pages with sidebar widgets.
We suggest this hotel WordPress theme to resorts and all accommodation business.
CSSIgniter – Aegean Resort Theme : Click for Demo & Price