Balance Theme Review StudioPress : A mobile friendly and fully responsive WordPress theme for StudioPress Genesis Framework having different SEO and Layout options. If you are looking for a multi-purpose WordPress theme then you can select Balance Theme for your next website. The genesis template is made of flexible homepage layout, custom page templates and lots of widgets so you can probably come up with a personal website, standard blog or a business website of your own choice.
Read : Modern Portfolio Pro Review : StudioPress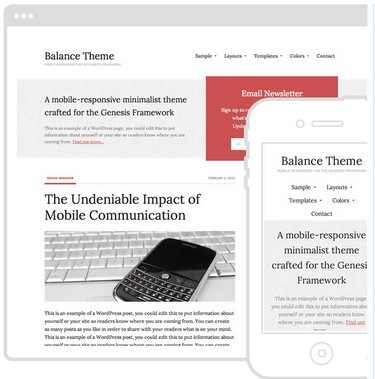 The Balance Theme Demo preview just shows a standard style of this theme, but you can highlight Portfolio items, Custom Page templates, Blog posts and many other elements directly on frontpage. The sidebar and footer both are totally dynamic so you can insert some useful widgets to display advertisement banners, Social media links, Latest articles, Custom text and other stuffs.
Read : Metro Pro Review : StudioPress
Why Balance Genesis WordPress Theme ?
The premium WordPress theme gives you a responsive framework so that website visitors could equally enjoy browsing your website from mobiles, tablets and all other internet mediums. The genesis framework provides you great features like SEO, Page/Post Layouts, Homepage Options and more. Not only that, you can even use your own Logo, custom background image and useful widgets for header.
In-short, StudioPress Balance Theme has all features and qualities to work as a multi-purpose template for all any type of website need. The homepage will display custom text box (introduction), Subscriber form, Latest posts using multiple featured columns. This way people who comes to your website can easily access newly published posts from main homepage.
Powerful navigation options, multiple menus and styling options are some unique features which makes it a right solution for creative bloggers and artists.
Key Features : Balance Theme StudioPress
Signup Form Widget : The responsive genesis child theme is made for professional bloggers who would want to get more traffic and subscribers. That's why, it has been powered by an eye catchy homepage newsletter form (widget) which permit you to insert a calls to action title and details into newsletter box. If you really want to encourage visitors to subscribe for your newsletter then you must enter some unique text and that's why it provides you a custom newsletter widget.
If you look at above image then you will find a custom text box on the left of newsletter form. This section is provided for introduction, so that bloggers or business people could connect it to About or Biography page. It will highlight Title, Excerpt and source page link so visitors can access full detail page from homepage. This way, your introduction and Newsletter box will always be visible on homepage even while you keep publishing new blog articles.
Multiple Colors and Layouts :
The Balance WordPress Theme has 5 pre-set color styles (Blue, Green, Red, Pink, Turquoise) so that administrator can easily pick a best one from the given list. Even if you don't like any colors from given list then you can just pick more colors from color tool. Whether you are a professional blogger, stylish designer or simple blogger, you will find a best color style from it's infinite range of colors.
Another best entity of this StudioPress Genesis theme is ready layouts where you will find 3 options : Full Width, Left Sidebar, Right Sidebar. You are free to set a global layout style and also pick custom layout for particular post or page.
Page Templates and Widgets :
The StudioPress Balance Theme has been packed with ready page templates like : Blog, Landing Page, Portfolio etc. This way, you will never have to purchase another WordPress theme to create business, portfolio or freelance website. Same way, it provides you with Social media widget, Adsense advertisement support, Custom Banner widgets, Custom text widget and more to make a unique blog.
The multi-purpose blogging template is supported by most advanced WordPress genesis framework and lots of theme features, so you give it a try.
All Features : Balance Genesis Theme
Mobile Responsive Theme
Featured Images : 2 columns layout (homepage)
Custom Background Options
Header Image Uploader
Logo and Tagline : Custom header
Stylish Opt-in : Email signup form (top homepage)
Below Post Elements : Author Box, Comment Feature
Footer Widget Columns
Return To Top Arrow button : Footer
Breadcrumb and Excerpt Options
Taxonomy : Tags, Categories, Author, Date (Optional)
Price Plan :
Child Theme + Genesis Frame-work : $99.95