Blockchain is first and highly professional crypto WordPress theme by CSSIgniter. This theme helps you to create cryptocurrency related business website to promote service or products. The theme brings built-in custom widgets so you can display price table for all top crypto currencies. The page builder and homepage widget areas will help you promote single crypto price box, services, products and business detail in clear way.
Wrap Theme Review – TeslaThemes
Why Blockchain Theme for Crypto Business Websites ?
Homepage Options : With the rising popularity for crypto crypto currency investment, people are looking for best investment advisor companies. And that's why many expert investment groups have started creating online presence to help people select best crypto coins. The theme allows you to display all your business details, services, price plans, testimonials and other stuff.
The homepage is setup in two ways, either you can select "Front page Template" to create widgetized page. If you want to use Elementor plugin then you can choose "Page builder template" from attributes list. The page editor screen will show you existing attributes so you can assign right one to your page. The widget management page will give you custom widgets that will be helpful to display crypto price box with live rate updates.
If you choose page builder still you will get custom elements to display Coinmakercap ticker, Crypto table, Single crypto info box and more. Whether you use page builder or widgetized homepage, you will have great flexibility for both of them. Drag and drop method is used to create custom front page with page builder and widget support.
Because, Blockchain WordPress theme provides ready elements and widgets, you will need no coding work or extra web developers help. Just decide on what will be visible on homepage and turn it into reality with drag and drop widget or builder module elements. You can have contacts, events, testimonials, services, crypto table, slider, or anything visible on homepage.
Responsive : People can watch crypto currency table, price list, services, and everything from mobile devices. Just test the demo on any handy instruments and see how it responds with great page loading speed. If you need a professional crypto marketing website then you need flexibility, responsive design and fast loading speed. We have found all these features along with SEO ready layout, which makes it perfect crypto marketing template.
CSSIgniter Custom Widgets Features :
Crypto Widgets : We found total 3 crypto widgets which helps you to create an ultimate crypto experience for your members. You can set "Top Crypto Ticker" widget with custom title, number of top currencies, number of currencies to skip, price difference (past time). The currency box is also available so you can display price change in USD or any selected currency.
The "Single Crypto Symbol" widget will display any cryptocurrency that you want to highlight in featured box. This widget is ideal when you just want to display particular currency with price change, live rate and other details. This way, crypto marketers can easily highlight market caps, interval performance, and other metrics for selected currencies.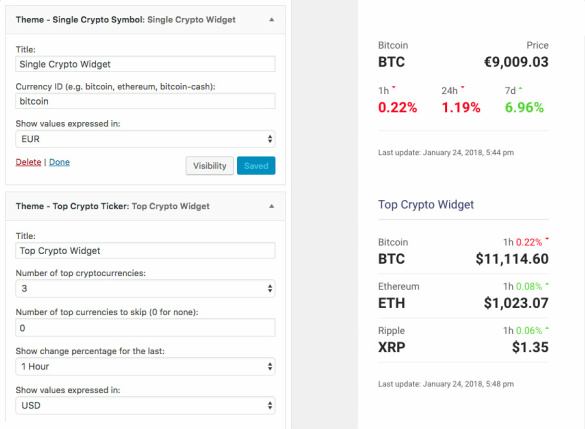 Crypto Exchange Rates : Blockchain theme has been provided with a custom cryptocurrency table powered by coinmarketcap.com website. This table will display all exchange rates along with full detail information for currencies. Website owners can display crypto listing table anywhere on website. You can configure this crypto price table to display multiple columns with click and sort option.
The table columns include Rank, Name (symbol), Price, Total cap, Volume (24 hurs), Change etc. These widgets will be helpful to any blog, news or marketing website which are based on crypto currency world.
Slider/Hero : The homepage editor provides custom hero section and slider support. You can either use Hero section to display big banner on top homepage or replace it with media rich slider. This feature can promote your business, main services and brand in unique style. All you have to do is just use attractive images and bold attract fonts that attract visitor's attention.
Header and Other Theme Options : Blockchain Theme
Custom Header Styles : Create a unique header that would connect visitors to the inner categories and pages. The header comes with multiple styles so you can prefer to display it with top area so that user can see it while scrolling. Also, you can change alignment of logo to the left or middle side. There is an extra section to display phone, address and contact details which can be placed on the top or bottom area. Every header layout will display same contents with different content position.
7 Post Types : You will have custom page templates attributes to create listing page for all 5 post types. The list includes : Events, Job Items, Team, Portfolio, Services, Testimonial, Case Studies. Hence, you will have one "Add New" button for each post to create listings for team members, projects, client's reviews, services and more.
The project filter navigation provides easy sort options and you can add upto 3 columns layout for any listing page. This is how you can manage to display company workers details, products list, past projects and client's testimonials.
Customizer : Blockchain WordPress theme is made for crypto brokers and investment consultants. So we can't expect those professionals to work on coding process. That's why, CSSIgniter provides custom theme options which includes visual controls for customization process. You will have custom options for color selection, font customization, header styling, navigation and layouts.
The sidebar and footer both works as widget junction which are best places to display recent posts, contacts, social links, and banners. If you are looking for best financial or Cryptocurrency WordPress theme with responsive design then look no more.