Maggie is a premium business WordPress theme for women business marketers and service providers by BluChic. This is top selling feminine WP theme with versatile layout that supports blog, shop, and business features. Whether you want to sell fashion goods, promote wedding services or share blog articles, this is one theme for every women.
It's really hard to think of starting a website without coding skill or big budget. But, this WordPress theme doesn't require any special skills or lots of bucks to get started with website. It has predefined layouts, visual options and documentation guide that explains you setup and customization process.
The theme is integrated with advanced features for project listing, blogging and business marketing.
Chamomile Review : Bluchic Business Theme
Maggie WordPress Theme Top Features List :
Hero Image with CTA : When you feature a big and gold feature image above the fold, then you are likely to attract visitor's attention. The hero image could present anything like product banner, special features, welcome message or anything. Bloggers can display email sign-up box to entice website visitors to subscribe for email list.
The call to action block can be combined to hero area on bottom side. When you create huge email subscribers list then you can promote latest products, new services, product updates, offers and other stuff. You can enable hero section and Newsletter on homepage and other pages. The hero section looks awesome with parallax scrolling effect combined with custom text overlays where you can enter links, text and headings.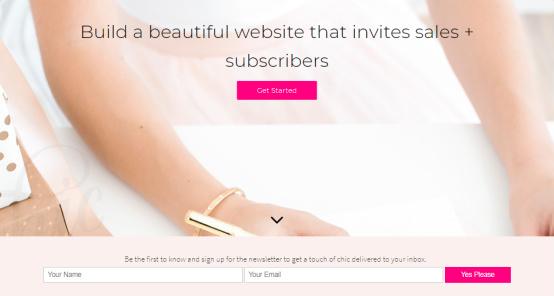 3 Featured Widgets : BluChic provides this feature with most of the business and blogging theme so that site owners can promote categories or custom pages. This section is managed from widget area by placing "Ace Featured" widget from BluChic. This widget will promote selected page with title, thumbnail, details and custom links.
Maggie WordPress theme has dynamic homepage that shows any detail on homepage. And this featured widget section is one of the most useful section. It can be used to share top level pages like Projects, Shop, About, Price list, Blog etc. If you are a blogger then you can connect product category page or other sections within website.
Back To Top : BluChic developers always strive to simplify customization and improve browsing speed. As a result, they have succeed to insert an auto scrolling button which takes user to the top area win single click. The bottom corner (right side) will show an arrow button facing upside. One click on this button will scroll you all the way to the top of the page.
Why BluChic Feminine Theme for Business Marketing ?
Multiple Plugins Support : Maggie delivers finest collection of custom plugins that supports every business need. These plugins helps you to promote your latest projects, latest posts and testimonials on homepage. Hence, you won't have to buy other expensive plugins to extend functionality. Creative women can easily share design, and past client's work list with portfolio listing option.
Announcement Bar on Top : The very top area, above the header is mostly used to promote custom messages by big business platforms. You can also do that with built-in announcement bar that shows custom message and URL to link offer page. The top promotional bar is ideal to promote news about offers, product launch news, and other important message.
Sticky Header Menu : The header set logo in center position with split menu showing links on the left and right side. This type of header is going to multiple menu links on the both side of logo image. You will get dedicated navigation support with floating header that is visible any time while scrolling. The header custom styling options allows you to choose any logo image and background style as required.
Responsive : No matter what devices are being used by your visitors, BluChic feminine themes always adjust to user's view port. You can pick any devices to test demo for responsiveness. And see how it adjust home sections, hero image, header, image gallery and everything easily. The modern adaptive layout will easily resize contents while loading pages faster for better SEO rank.
This is how you can start a business marketing website that works everywhere for all promotional needs. Easy to use options and flexible homepage layout are the key benefits of this business WordPress theme.
Maggie BluChic Review : Final Thought
Footer Widget Areas : The full-width homepage style looks great when it shows all section in wide layout. But, you can still enable additional widget areas like sidebar and footer. The blog section can promote banners, latest articles, categories, social links and other stuff on sidebar. With flexible footer area, you will find ample wide space to display Instagram feed, CTA and social media links.
The footer is also ideal to display custom links, business contact details and other widgets.
Fully Customizable : Maggie AcePanel will give you all theme options in one location. You can use it to adjust color skins, layouts, fonts, header and other stuff. Thanks to BluChic options panel that includes visual options to set colors, hero image, social media, newsletter and other elements. Bloggers with common WordPress knowledge can also optimize and setup website with this options panel.
WooCommerce : Apart from business and blogging features, you are getting eCommerce support as well. The WooCommerce interaction gives you straight and easy way to start online shop. This single plugin will add custom shop page, cart options and custom widgets, short-codes to run online shop.
Other elements includes translation support, flexible home widget areas (display anything), SEO friendly design, and more. This is best feminine responsive business theme for women entrepreneurs.