Didi is a light weight and truly minimalist WordPress blogging theme from ThemeIsle. It is rated as the best blogging theme in many reviews and we will also judge it closely. The theme leaves it first best impression as you start scrolling on the homepage.
It loads content in smooth style and you will see best page loading speed while accessing articles or pages. Thanks elegant background style and bold headings which attracts user onto content easily.
MedicPress Theme Review – ThemeIsle
Didi Homepage Widget Areas and Setup :
Quick Overview : What you see in demo is a modern design for blog platform. Forget the old ways of creating list view style blogs, and adapt to this new concept. The homepage in this theme consist of widget areas so you can arrange them in any order to display call to action, custom titles and latest blog post entries.
Besides that, you can either follow same design pattern from demo or create a unique homepage. Frontpage can display slider, featured pages, contacts or anything you like. It requires drag and drop method to add widget in homepage area and you need no coding skill to configure home sections.
The custom widgets will give you option to easily add content and custom titles. Let's check out homepage setup to learn how to create exact homepage as visible in Didi WordPress theme demo.
Top Content Area : This section will show any image, title or a few lines of paragraph. You just have to enter content in editor box for homepage template. And it will show homepage content as the top area for homepage. This section is best way of showing nice introduction for blog platform or you an use it to promote affiliate product or call to action or anything.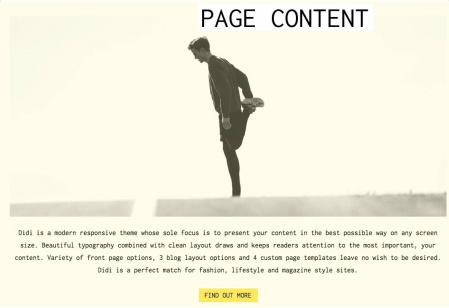 Frontpage Widget Areas : ThemeIsle Blog Theme
First Widget Block : The homepage has total 3 widget areas and you can fill them with any widgets that is available in package. The first block in demo shows background image with text hover effect. You can add a large custom title and link it to some category page or any other link. The first widget section bottom area shows a call to action block with "Promo Block" widget. This is good way to attract visitors attention onto your ebook, product or service page.
Second Widget Area : The next block shows recent post entries in grid style. You can use given widget to display a blog post featured section with custom title, and layouts. The widget allows you to define number of posts and multiple columns. You can choose a category so it will always show recent post from that category page. Multiple columns will add more blog posts on homepage which is best way to improve page-views.
The third block also uses same type of widgets to display featured sections just like first two widget areas. Didi WordPress theme allows you to use Soliloquy Slider or any other plugin to add slide-show on homepage. Bloggers can use widgetized page, blog page or any page as homepage.
Footer Widgets : This section includes total 3 widgets space and it is ideal for content promotion. Bloggers can share their biography details, contacts, social media links, custom menu links, email sign up box, or widget using footer. Sidebar is also good place to share widgetized contents with all posts and pages.
If you look over the left then you will see a "Left Bar" that shows social media link icons and search box. This floating bar will be always visible on the left side from all areas. Hence, user can easily browse your social pages and start searching best contents with search box.
Didi ThemeIsle : Header and Other Options
Custom Header : WordPress bloggers can use custom header image which could show blog topic or products or personal photo. Site owners can define any logo image and tag-line as branding for header area. The header section will show logo in the top middle and menu bar in bottom. Thanks to clean and bold header design which highlights all top links in primary menu bar.
Blog Layouts : Didi WP blogging theme gives you standard list view and multiple columns layout for blog template. You can add 2 or 3 columns layout to display many post entries in single page. While doing this, you will have choice to set sidebar on left or right, or use full-width to remove sidebar. The blog page can show posts in simple list style or grid style too.
Single blog posts can show In-Post navigation window with next and previous post links. You can also highlight author details, related posts and other information below articles.
Other Details : The customizer options page will load all pre-defined theme options in single window. So, you can browse blog layouts, homepage layouts, header options, color options and font options from one page. With 4 custom page templates, blogger will get options to create stunning pages with grid template, full with template and other pages.
Last but not least, authors can use Woocommerce plugin to setup a shop page within blog. This best responsive WordPress blogging theme with all advanced blog features. You will miss nothing when it comes to develop a content focused and professional blog website.