Formo is a multipurpose genesis WordPress theme which includes many features in single template. It is powered by Zigzagpress who is popular genesis child theme developer. This theme shop always provides minimal and light weight templates and that's why they are popular. If you check their templates demo then you will find some common features like Fast loading speed, Elegant design etc. The Bold typography and and spacing creates airy design for better readability.
If you have wasted lots of time in search of a best versatile template then your search journey is over. Let's check out the reason for why every business individuals and bloggers should use this theme.
Plugged Review Zigzagpress : Magazine Theme
Formo WordPress Theme Main Benefits :
Custom Homepage : The frontpage creates a wide space so that you can display desired contents on homepage. The theme serves you with 3 main areas that is called Portfolio, Blog and Shop. It has custom options for portfolio management and blogging needs. If you require online shop then you have to install WooCommerce plugin.
What we like in homepage is flexibility of showing any contents using custom widgets. You can display portfolio items, recent blog posts, shop products or anything on frontpage area like demo. The theme gives you custom widgets support so you can display selected contents or you can set any template as homepage.
The elegant background and content spacing creates best browsing experience for visitors.
Slush Zigzagpress : Portfolio Blogging Theme
Portfolio : Formo theme provides documentation with all details on how to manage portfolio listings. The back-end offers custom portfolio options where you can choose page layout style and navigation system. The portfolio offers extra navigation bar which includes all top categories. So visitors can filter portfolio work by selecting category from filer bar.
So agencies, freelancers, photographers and all creative people can use portfolio post type to add their work samples. It can surely bring new clients if you display your work in effective way.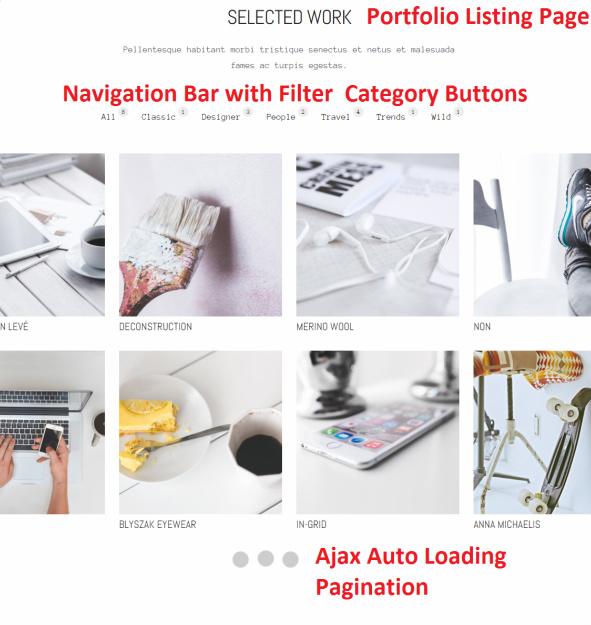 Blog Sections : Whether you create business site or personal site, you need blog section as common part. The blog page can help you to share news, updates, offer details or anything. Many business use blog as content marketing by sharing tips, knowledge, tutorials and other helpful stuff. Zigzagpress offers blog with custom post formats support. So you can share videos, gallery, and other median items easily.
Other Best Features : Formo Zigzagpress
Single Post Features : Whether you check blog posts or portfolio posts, it will show you two sections. The top hero section is visible on all single posts which shows large featured images and media items. So user is directly welcome with hero section and then shows post title, and contents. The bottom area provides space to highlight Next/Previous article links.
If you want to boost page-views then you can enable "Related Post" section. It will show relevant articles that comes from same tags or categories. Customizer panel helps you to edit page layouts, background, fonts, single post layouts and everything. Hence, administrator needs no coding skill at all.
Menu and Pagination : If you check header area then you will find a floating navigation bar with button (left) and logo (center). The left portion shows a mobile App type button which shows and hides navigation menu. Clicking this button will load "Off-Screen" vertical menu bar on your screen along with widget. As you scroll over bottom of homepage or any archive page, you will see another magic. What I mean is that, Formo WordPress theme uses Ajax auto loading pagination style.
So user just have to scrolling down to see more posts from previous archive sections. It never ask you to click pagination button to browse more items. This feature can help user find best content within short time.
Conclusion Lines :
eCommerce Support : This is optional features for any one who needs online shop to sell affiliate products or their own goods. If you plan to sell photos, ebooks, fashion products or items then you don't need to purchase other shopping cart template. Just install WooCommerce plugin and it will help you add shop section with current site. The plugin covers cart, product listing and shop management options.
If you really need all modern features into single WordPress theme then it's here. Formo genesis theme provides mobile friendly layout with custom menu button. The user friendly options panel boost website setup speed. You can use given widgets and styling options to optimize website. The built0-in shortcodes makes it easier to add toggle, buttons, multiple columns (services), tabs and accordions.
I recommend this genesis child theme to business firms and corporate companies wanting to create best online presence. Even if you need blog, shop or a personal site, you can still go for the same theme.
Zigzagpress – Formo Theme : Click for Demo & Price