GrandStand is a WordPress blog template powered by simple and elegant layout from TeslaThemes. This WordPress theme compatible for authors wanting to promote travel news, technology and lifestyle tips. The demo shows plain elegant layout which shows contents in highly clear style. Therefore, blog readers can easily refer to articles and view media contents in clear way.
If you need a simple journal template with modern blogging features then here is the best deal. This theme comes with Bootstrap 3, HTML5 and CSS3 support which improves customization and content presentation style.
Materialism Review – Landing Page Theme
GrandStand WordPress Theme Homepage :
Simple Frontpage : With listing post layout, every new blog post that you will release will be highlighted nicely. The excerpt layout with featured image keeps every new blog post into focus for homepage visitors. The homepage looks layout gives you a best way promote widgets with sidebar layout. Bloggers can also choose full-width layout for home or any page section to only promote contents in clear way.
Widget Promotion Areas : There are two main sections where you can promote banners, blog posts and other elements using widgets. The sidebar and footer are both used to share popular blog posts, Ad banners, Tags, Categories, Author biography, and other elements. Because sidebar is easily visible with pages and posts, you can easily promote widgets with blog articles.
Responsive :: GrandStand has been developed with Mobile optimized layout that will fit on user's screen in all conditions. If you check out demo on laptop, mobile or tablet screen then you will see all contents automatically gets resized as required. The adaptive layout runs faster in all conditional from small to big screens.
We loved the "Ajax Load More" pagination button that loads previous page contents easily in just single click. All you have to do is just click this button once and you will have previous page articles visible on current screen. This pagination loads contents without refreshing whole page which takes minimum time to browse blog articles.
Novelty – TeslaThemes Magazine Theme
Best Blogging Theme Features : TeslaThemes
Header and Menus : The top of the website shows a header with wide layout that shows menu bar, and logo with image or text form. You can also display custom social media links for all sites where you have setup profile. The search box icon can be displayed on header right top area so that visitors can always search for contents from anywhere on the website.
Single Post Options : If you check featured posts and full post then you will find a "Like" button with heart shape. Visitors can click this button when they like the contents, which is counted as a vote. Readers will see like button with total counts which is good way to entice visitors to browse your contents. Every blog post shows total page views, total comments, and taxonomies.
Social sharing buttons are displayed into single posts so that readers can share them with other people on Twitter, Facebook, and Pinterest. Related posts and comments box are also good features to keep readers busy within website. This type of blog post layout keeps user busy with different activities, for e.g. share contents, browse more posts, write comments and liking post.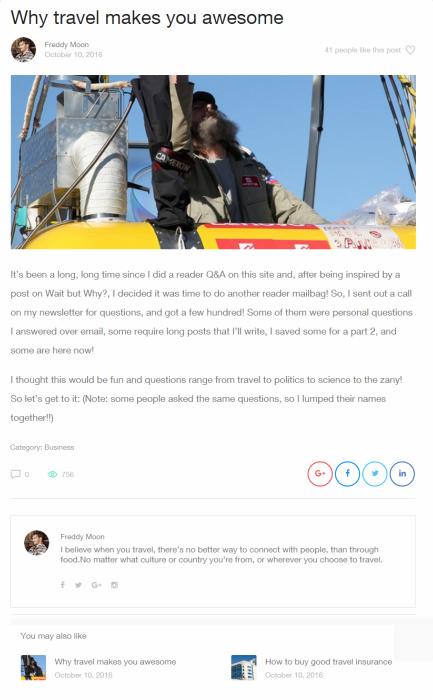 Advertising Options : There are couple of widget areas where you can promote banner for different ad programs. You can promote adsense ads or affiliate banners with custom widgets and advertising options. Bloggers can implement banners into single post, header and different areas to make good revenue from advertisement programs.
GrandStand Blog Theme : Top Benefits
Theme Options : TeslaThemes WordPress templates are mostly used by all people who needs blog, news, magazine and business sites. This developer provides Bootstrap framework and easy theme options panel. So, user is able to setup website and bring all changes without coding skill. The visual options panel will display controls for homepage, header, layouts, color style, fonts and much more.
If you want to spend all time in content writing, instead of coding and customization work then GrandStand theme should be your first choice. The theme also have custom page templates, list of best widgets, and useful documentation.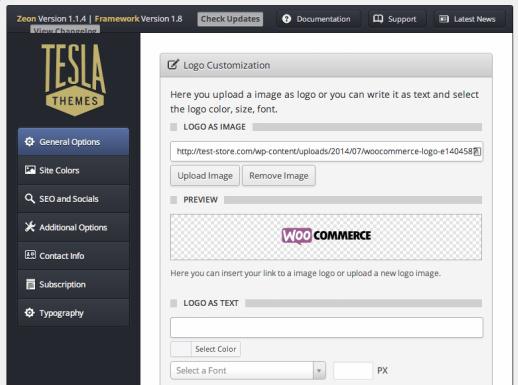 Other Advantages : Apart from what we mentioned above, you will have access to useful shortcodes to add columns, buttons, lines and maps. Professional bloggers and internet markers require these shortcodes to add interactive elements into marketing pages and blog articles. These handy shortcodes are accessible from page editor and you can use them to optimize content presentation.
The theme works with all latest browser programs that are used on mobiles and desktop devices. Social integration makes this blog template even more powerful by adding sharing and social links. The package includes everything required to get Email subscribers, social likes and SEO benefits. If you really want to take benefit of modern blogging trend and earn good revenue then I suggest this theme to ever one.