Hyphen is a modern and elegant WordPress E-commerce theme from Zigzagpress. The theme is designed for WooCommerce with simple but content based layout. Besides that it has awesome features that would meet all the requirements to start an online shop or business website with blog and additional pages. If you have been searching for a genesis child theme for online shop then it is here.

Please note that, it requires a Genesis Framework installed before child theme setup. So, make sure to get keep child theme and framework handy while setting up the website.
Showroom Theme Review – Zigzagpress
Hyphen WordPress Theme Overview :
Frontpage Design : We have always suggested genesis templates for most of the modern websites need. Because, genesis package provides advanced theme settings, widget areas and custom widgets. So, people can easily perform website setup and customization without coding work. As a result, administrators can easily perform all the changes and save lots of time in customization work.
Hyphen frontpage is covered by widget areas so you will have great amount of space available to display all products on homepage. You will have widgets support to display WooCommerce products, featured pages, featured posts, call to action, slider and other stuff. Thanks to WooCommerce which offers custom shortcodes and widgets to display product section on any pages.
Appealing Design : Not only homepage, but every page including shop, achieve, blog and all sections look visually appealing. It is because of elegant background style and bold fonts. Shop owners can use genesis theme options to setup right background and typography style.
The visual options panel allows you to select color styles, backgrounds, and more. The home and other widgets can be placed with drag and drop method which is novice friendly way for customization.
Check : Eshop – ZigzagPress WooCommerce Theme
Zigzagpress Best Features and WooCommerce Options :
Header and Fixed Menu : The header acquires clean space to display shop logo with tag-line in middle position. The primary header menu is located on the top of the website. Because of fixed floating menu style, user will be able to see links all the time from anywhere. The primary menu bar will show selected pages, categories, shop, blog and all selected links. The Cart links is always visible with product count so user will always notice it from everywhere.
Shop Page Options : Hyphen genesis eCommerce theme has a best shop page layout that would improve content browsing speed. The shop page uses a custom grid layout to show all newly released products. The number of columns in grid section will be available as per your layout selection choice. The grid will reduce columns when you open shop page from mobile or small screens.
The shop page will have "Sort Options" box with many options so user can view all items by sorting with any choice. You can view items with Price range, Newness, Popularity or other modes. The demo shows full-width shop page but you can use sidebar layout to display price filter options. The sidebar is good place to highlight popular items, shop categories, banners, recent posts, social links and more.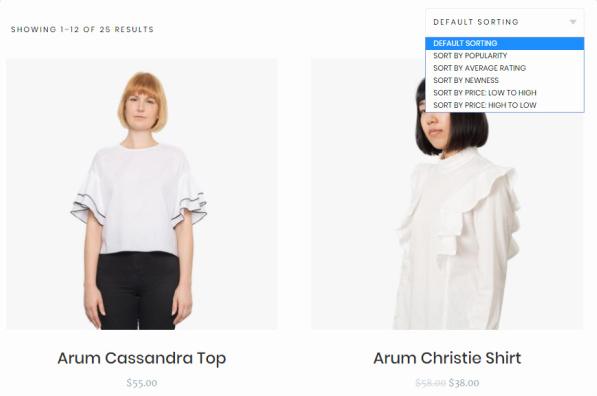 Responsive : Visitors should always have best experience while browsing website from handy small screen devices. Be it tablet, mobile or laptop, it will always maintain a best browsing speed and content display style. You will be able to see product page, shop page, homepage, Cart and all sections nicely in small screen resolutions.
This feature will improve browsing experience and number of sales for any online shop.
Product Page and Other Features : Hyphen
Single Product : WooCommerce plugin will gives you product listing options and all the necessary features required to manage online shop website. The product listing fields will help you add title, price, details, product features etc. You can also use multiple photos for every product to display it from all sides.
The product page description will provide brief detail and user reviews option will let buyers to add their reviews with ratings. Related products section is available for each single product page as optional feature. So, you can show related items to boost number of page-views and sales.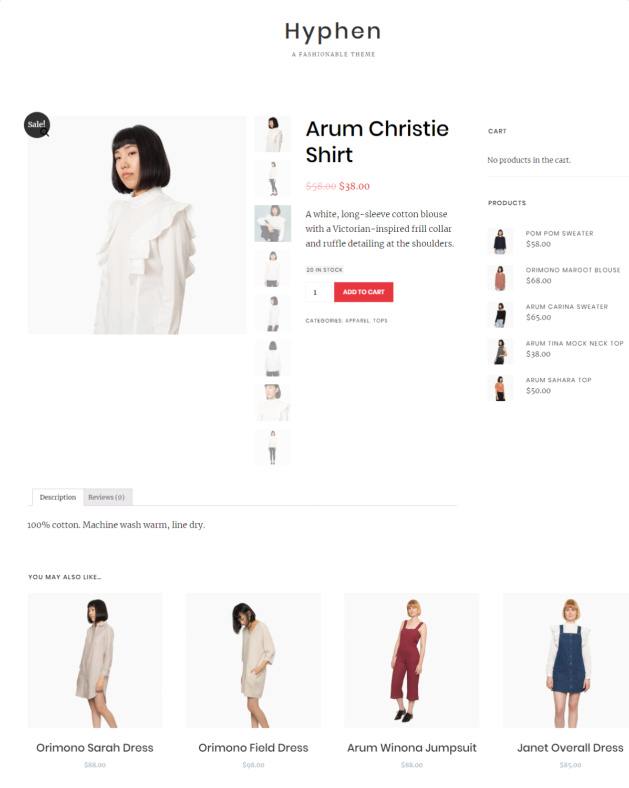 Quick View : You will see "Quick View" button as you hover the mouse pointer above product thumbnail. With this button, you can load product within a separate ajax box without leaving the current location. The quick view box will show product title, photo, price and basic information. So, user don't have to open full page unless they find product interesting enough.
More Details : Hyphen WordPress theme is a best eCommerce genesis theme from Zigzagpress. Because, it brings a live customizer panel with several theme options. The theme has footer widget area, blog template, multiple page layouts and extra templates to create necessary pages. If you want to start a secure and performance based online shop website then it must be your primary choice.
ZigzagPress Hyphen Theme : Click for Demo & Price