Introducing Lense by CSSIgniter : Highly minimalist and elegant photo gallery theme for modern users. If you are a designer, agency or photographer then you need this theme to create online presence. The best thing about this WordPress theme is the layout styles provided for galley listings. Normally, you have to use extra plugins to manage gallery and portfolio listings. But, this product brings it's own listing and content management options.
The ready options will save time taken for listings and website setup. You will need no coding work to setup image display page. The adaptive design will adjust on smallest screen devices like Mobile and all screen types.
Aegean Resort Review : CSSIgniter Hotel Theme
Best Features : Lense Photography Theme
Sidebar On Left : Many WP photo-showcase WordPress themes comes with standard header design which shows logo, and menu on the top of the site. But, Lense has used new style to give you a dedicated navigation that always stays visible on left. If you check demo preview then you will see that entire header is visible on left from all pages. It will remain fixed even while user is scrolling down on long pages.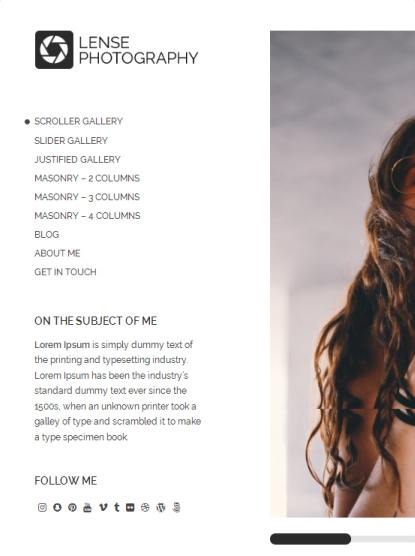 As a result, user always remains in contact with main navigation system which shows links for pages and important categories. The left sidebar shows logo image for your company, menu bar and selected widgets. The widget block can be used to promote banners, social links, contacts or other elements. If you resize your window or load demo from small screen then you will see that header shifts to the top of the screen.
The menu bar turns into App like button while resizing everything that comes onto user's screen.
Responsive : Lense has advanced responsive design which always keep user experience in main focus. So, visitors can always check photos collection, blog posts and everything in proper way. This feature has two benefits : First it brings more visitors from search engines and second it secures good SEO rank compare to non responsive sites.
Check : Benson Review – Photo Gallery Theme
Gallery and Slider Features : CSSIgniter
Custom Layouts : Lense layouts list includes Scroller gallery which shows images in horizontal style. The scroller looks like carousel slider where you get navigation bar to scroll on left and right both direction. Simple slider is second layout which shows photos collection in medium sized slider. This regular slider shows images in big size compare to scroller.
The 3rd is justified gallery or you can also call it masonry layout. The masonry grid shows all entries in auto stack mode where images are resized to fit in available space. The grid is responsive enough to adjust on smallest device. You will get drag and drop photo uploader to insert images from gallery box. The photo uploader box has options to arrange images in desired order or you can set them to appear in random mode.
Full-Screen Slider : Once you click on gallery image then you will see it in full-screen light box slider. The slider will show image in dynamic (original) size with controls for navigation. Hence, user can navigate and view other images by clicking on buttons or arrows key from keyboard. The escape key will exit slideshow mode or you can click close button on slider to exit easily.
Other gallery options includes Spacing option and Loading effect. So you can define custom spacing for image grid and also set loading effect to impress visitors.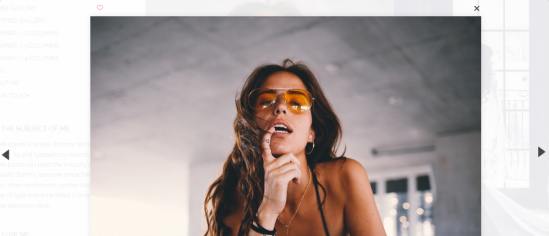 Other Features : Photo Gallery Theme
Customizing : Lense WordPress theme has been developed with user friendly theme options. So there will be no coding need to make changes in the website. The options page includes visual settings for colors, typography, blog settings, social networks, menus, and other elements. Easy options page makes better way to undertake setup process for novice users too.
Blog Settings : Apart from gallery options, you will have blog section to share articles for portfolio work and other business or product related news. The blog listing page shows all posts in featured style with excerpt and read more link. The "Blog Settings" page includes options to enable / disable many elements for articles.
Hence, you can show or hide date, author, featured image, categories, tags, author box, related posts and more. Along with that, you will can enable light-box to display galleries in posts.
CSSIgniter – Lense Theme : Click for Demo & Price