Medicus is a medial WordPress theme for clinics, hospitals, doctors and all health related niches. WPZOOM has used a multi-purpose layout in design process, so you can use it for medical, non-profit and corporate websites. If you just look over live demo then it shows a plenty of free space and clean layout around contents. The header, homepage, footer, sidebar and every part is manageable from back-end area.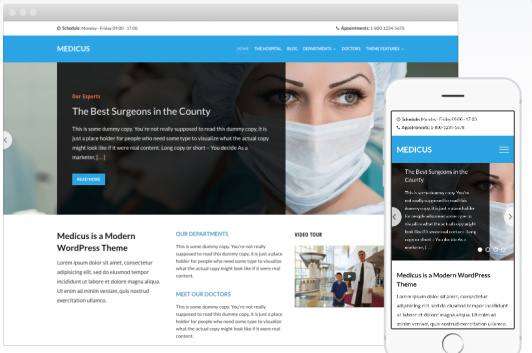 The theme has directory template stricture where you can add parent and child templates to show doctors list, services and product types. In-short, this is perfect theme for all business which needs to reach potential clients through online presence.
Medicus WordPress Theme : Homepage Area
Fronpage Attributes : The page editor screen will show you options to choose a homepage customizable with widgets or ZOOM builder. The demo here is crafted with WPZOOM widgets which is highly suggested for most of the people. In-case, you have complex homepage design requirement then you will be free to use page builder.
Widget Areas : Medicus homepage consist of 4 widget sections and they all are flexible to show selected contents. You will have total freedom to add featured pages, featured posts, calls to action, banners, introduction or anything in these areas. Below is the detail about each home section.
1) Full Width Top : This section appears just below slider which is ideal to add company or hospital introduction. You will have text widget that supports HTML code to display welcome text, business details and link also.
2) Homepage Column 1,2,3 : This widget block appears in second position having 3 blocks in horizontal mode. It is ideal to show top level pages which could be Services, Contacts, About, or any other pages.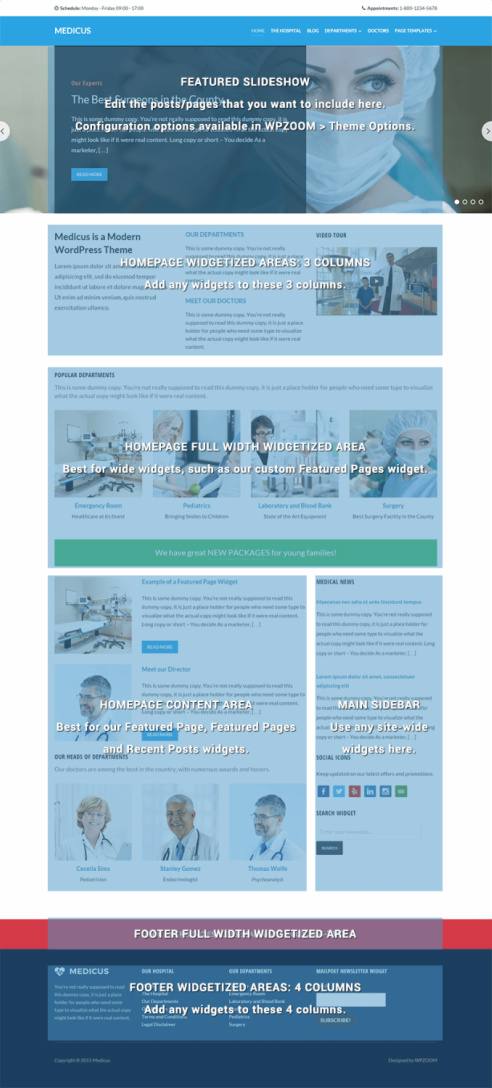 3) Homepage Full Width Bottom : This is wide widget section ideal to display list of top product categories, hospital department list or anything. Business owners can use "Featured Pages Widget" to add selected page sections. The wide space provide good opportunity to display lots of contents within limited space.
4) Homepage Content Area : This section shares left side to display contents and right area for Sidebar. The left block gets most of the space so you can highlight featured pages or latest posts from the blog. The right portion shows "Main Sidebar" which shows all widgets site-wide. It is good idea to show social links, newsletter box, contacts and other widgets on sidebar widget block.
More Details : WPZOOM Medical Business Theme
Frontpage Slider : This is optional but important section for homepage. If you enable this section then it can show pages and posts as required. The post/page editor will show a check box with "Feature In Homepage". If you click this check box then it will show current page or posts into homepage slider. The theme will add content overlay box above slider image to display title, excerpt and source link.
Slider is mostly enabled for most of the business websites as it promotes best offers and latest contents easily.
Header Options : The Medicus WordPress theme includes basic and extra header elements. The top header shows option to add hospital or business working hours. The top right header space is ideal to display phone number for direct telephonic communication. Hospitals and local service providers should add business phone on header area to get quick inquiries from new clients.

Footer Details : This region has two sections, the first footer block is given in full-width mode. So it probably good place to add some calls to action text or other elements. The bottom footer consist of 4 columns which is good place to share hospital details, custom links, subscribe widget and more. Footer appears when user reach at the end of the page.
But it can still be good place to promote useful links and widget contents. Many business people prefer to add custom links and contact in footer so user can navigate to other pages or get contact details before leaving the site.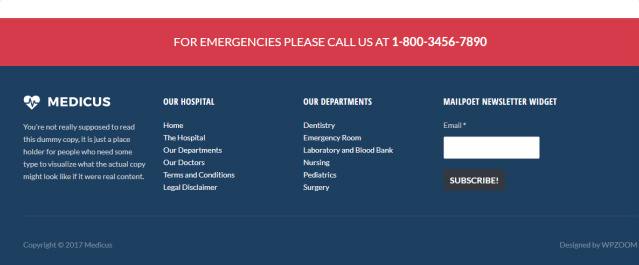 Other Features and Conclusion :
Responsive Theme : With this feature already available in Medicus, it makes your site accessible for all hand held devices So, visitors never have to scroll left and right to read all details on the pages. It will adjust menu bar, page contents, slider and all home sections to fit on user's screen. So feel free to invite all users from mobiles, tablet and other new devices.
Search engines also put focus to provide high ranks to responsive sites which has good loading speed. WPZOOM already offers these features with all WordPress themes which is best part of their package.
ZOOM Framework Options Panel : Landing on back-end options panel will be good experience as you will see tabs to access general and homepage options. It won't really need much time to setup slideshow, banners, header and other sections with ready options. The slider settings panel let's you choose content source which should be blog category. The slider can run in automatic mode while showing certain number of slides as specified on settings page.
Visual Customizer : Apart from back-end panel, you can load all theme options with live window from customizer. This window will have all options required to setup frontpage widgets, header, navigation menu, page layouts, color styles, fonts and more. So you will have all chances visible in preview box while changing settings from options list.
We suggest this versatile WordPress theme to create website for any medical or other business types. It has blog page, directory page, and custom homepage as core features. Besides that, you will have custom sidebars, Shortcodes, page templates and theme options for easy website setup.
WPZOOM Medicus Theme : Click for Demo & Price