MH Elegance is versatile WordPress theme with premium features that is useful for different types of business needs. To be more clear, I want to say that it is best business theme with multi-purpose layout and elegant design. The theme offers many customization options, layouts, designs and custom widgets. So you will never end-up making a general business site like most of the failing entrepreneurs.
If you really want to cross the horizon of success then you need a proper business platform with online presence. And MH Themes business WordPress theme can surely meet that need to create a modern business site with decent structure.
MH Cicero Theme Review : MH Themes
MH Elegance Business Theme Details :
Usability : The theme offers features to create agency or any type or small or big business site. So those people who needs a portfolio site, service showcase site or a blog platform can go for it. The main core features covers a custom homepage and header design where you can display desired contents. Apart from that, it has special widget for portfolio and a nice blog template.
With these many unique features, you will find a quick way to develop best online business presence. What we love about this developer is the passion to offer flexibility. MH Themes provide a visual options panel that covers Layouts, Typography and other basic options. So forget the pain of hiring costly programmers or learning coding work. Novice and other users can use it in the same way regardless of coding experience.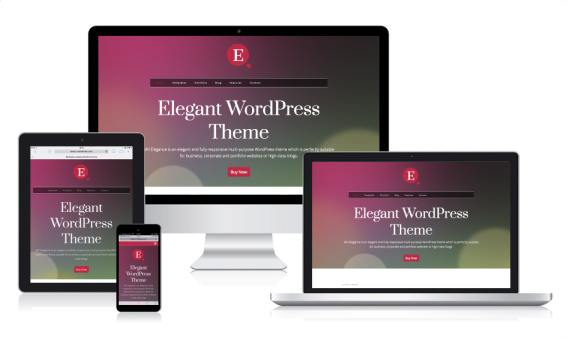 MH Elegance documentation will explain you on how to create same website like demo. You will just need follow given instructions to create a business site with portfolio, blog and custom homepage design.
Custom Homepage : : The homepage can be setup in static mode with widget sections as shown in demo. Or you could also set blog, portfolio or any page as homepage. If you want to follow same homepage design like demo then you have to create homepage using "Front Page" template. Then go onto widget section which has two sections for homepage.
Just drag and drop any widgets to display portfolio, calls to action, latest blog posts, services, contacts or other stuff. Whatever you add from homepage editor will be shown on middle of homepage as content section. So your first widget will go above content and second will go below content.
The demo uses custom portfolio shortcode with text widget and "MH Latest News widget" in 2d widget section to display blog posts.
Top Features : MH Themes Business Theme
Custom Headers : MH Elegance WordPress theme becomes more appealing by allowing you to use featured image has header image. Not only that, you will also get support to add custom text and banner to create a stunning custom header for your posts and pages. Hence, it becomes very helpful when creating landing pages or calls to actions for business websites.
You must keep in mind that custom header support is available for all pages and posts, except blog, archive and portfolio posts. So rest of the posts and page sections will permit you to set custom header style as required. The page/post editor will show you custom input fields for header area and additional meta fields just below the WP editor screen.
The header can also display your featured image as header image, so you must upload image in decent size that fits to header. It your image is little but smaller then it will scale automatically to cover the entire header. Using custom header options, you will have best way to impress customers and readers. It can help you spread your goal, welcome message, brand or anything through entire site.
Responsive : MH Themes always develop their all WordPress themes for small and all screen sizes. So any website made with MH Themes templates are eligible to work as responsive platform for tablet, smart phones and other devices. Just resize browser window in demo or try out demo on mobile to see in real-time responsive mode. This feature improves browsing speed, SEO rank while helping visitors to check images, videos, texts and everything in clear way.
MH Elegance Portfolio and Other Options :
Using Portfolio : MH Themes has developed their own portfolio plugin known as "MH Portfolio CPT Plugin". This plugin is integrated with theme package so you don't need extra 3rd party tools. Many business people need to buy other plugins or extra WP theme to create portfolio website. You can add a portfolio listing section by just using this plugin.
Once you have installed it, then you can start listing work samples, and product list using portfolio post type. So all items listed with custom post type is visible under portfolio or archive page. On the other hand, you can also use Portfolio Shortcode to display post entries on homepage or with any page or posts.
Other Features : MH Elegance sidebar is best widget area to display social links, banners any other items. You will not find sidebar support for homepage, so it is only for other posts and page sections. The footer provides additional options to upload logo image and display social menu icons. Same way, header area also highlights custom business logo and primary menu.
Apart from that, we found Contact page (widget support), Font Awesome Icons and custom shortcodes plugin support. So creating a business website is not much harder for any one. Just purchase this all founder WordPress theme to create portfolio, business or any type of content marketing website.
Last but not least, we love the blog page design which shows Post Meta and and feature image side by side. Along with that, you will see stunning headings and excerpt supported by "Read more" button. This is most powerful business and portfolio theme for WordPress in market.
The easy options panel, tutorials, updates and dedicated supported are some key factors to consider it as first choice.
MH Themes – MH Elegance Theme : Click for Demo & Price