Paws & Claws is a beautiful pet WordPress theme supported by lots of animation, graphics and advanced features. This theme is a best product of ThemeFuse themes store which has been released for pet related sites. The theme is primarily introduced for pet clinic website. Though you can also use it for other related business like Pet Seller Service Provider, Pet toys sellers and more.
The back-end has features and templates so you can easily list services, contacts and other stuff. If you want to get online leads for pet clinic or any pet related business then you must start a website. And this is only best pet WordPress template in the market that includes business focused and gorgeous design. Thanks to ThemeFuse for offering best images and animation in design package.
ThemeFuse – The Advisors Review
Why Should You Try Paws & Claws WordPress Theme ?
Most of the WordPress theme developers are dedicated to create blog, magazine and other general purpose templates. But ThemeFuse is different, that's why their store consist of Kindergarten theme, Pet theme, Gym theme and other templates. So if you search on internet for best pet themes then you may come across very few templates. Paws and Claws WordPress theme gives you special pet search and listing template.
Apart from that you will see many page templates with custom layouts. Hence you can easily add pages like Blog, Testimonials, Events, Contact, Services and much more. Thanks to back-end for providing these many features at one place. If you happen to require event or testimonial or service then you are one click away. Just visit back-end and start adding contents from relevant menu options.
Because this theme is not dependent on external tools for listing and content management, if delivers best performance. Just check demo where you won't see any slow speed issue or cluttering design. Despite having used bright and heavy graphics it still maintains best balance for readability. Because fonts are optimized with bold style that requires no hard-work for formatting.
Tapptastic : ThemeFuse Mobile App Theme
Features Review : ThemeFuse Pet WP Theme
Dual Slider Options : This Animal WordPress Themes has advanced slider options. So you can always highlight your pet clinic services or pet shop products in proper way. The homepage surely gives you lots of featured sections but slider is still best spot for key contents. The slider can get attention on important stuff that could be new offer, latest arrivals or other stuff.
With 2 different sliders, you can easily insert slideshow with animated slides. If you pick first slider then you can add great animations for the text supported by images. The second slider concentrate more on text and videos too. They both are great so administrator are free to pick slider type that meets their purpose.
Events Calendar : ThemeFuse provide Events panel for all WordPress themes. So Paws & Claws is also going to get benefit of this modern feature. Whether you are a pet clinic or pet seller, you always need to publish special events in proper way.
Here comes events panel in action where you can list upcoming events or seminars or workshop. You just add events and visitors can browse them in well organized calendar. It also let's you set recurring event which saves your time for regular events that occurs repeatedly.
Responsive : In this busy world, not every one is free to seat on computer when they need to find best pet clinic. Hence, your website should be prepared to serve people on smart phone, tablet and other devices. This responsive WordPress Pet theme can be great choice for modern internet devices. Just start your site with Paws Claws and you will start getting visitors from mobiles, tablet and all devices.
Other Main Benefits Of Paws & Claws Theme
Pet Search and Listing Page : If you are a pet selling firm then you must need a page on your website where visitors can find pets in their preference. With this goal in mind, ThemeFuse has crafted special pet adoption page where user can see all pets list. Not only that, it will provide a search module on the sidebar with advanced option. So user can choose location, pet type, breed, age, gander, size and price.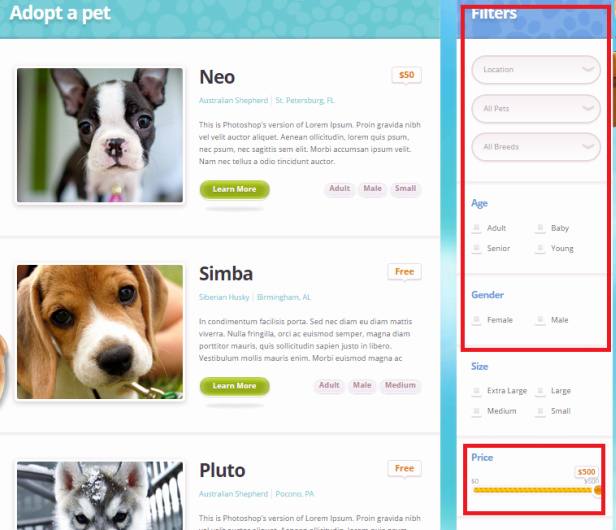 Once you are done selecting preference then you just need to click "Search" button to view pets list on the screen.
The pet listings page are also awesome, you can add pet photo gallery and custom calls to action buttons to display phone and email address. If you check single pet listing page then you will see sidebar with contact contact form. So once visitors fill details then you can follow them back for for further process.
Similar Pets are also highlighted on sidebar below contact form, so visitors can see more listings until they find best one. We liked the bold heading fonts, and stylish header used for widgets, navigation menu and all sections. It easily attracts visitors attention onto contents using appealing fonts, colors and background style.
Appointment Module : Paws & Claws was introduced with pet clinics in goal so it offers appointment system. You will find custom form builder module where you can add appointment form to get manage clients. So your client's just need to check appointment from website in order to save their time. This module could prove helpful for clinics as well as pet owners.
Because they don't have to seat long hours as they already know their fix appointment time. Once you finish adding fields in appointment form then you can add a special appointment section on your site.
Conclusion : Pet Clinic WordPress Theme
As we are heading towards conclusion part I am going to give you more details about other special features. if you browse around header area then you will see a large header with logo, and menu bar. The links text used for navigation bar are quite large, good enough to get visitor's attention. Similarly you will love footer for widget area where you can add contacts, social links and other details.
The sidebar is available for blog and all pages so you can optimize them with custom widgets. If you talk about homepage design then you can use demo files to create website quickly like demo. The Fuse framework will give you number of theme options and controls. So it takes a few minutes to replace color style, background, sidebar layout, or anything.
The drop-down menu gives you multiple columns as it is powered by MegaMenu feature. So you are getting large space to add all links under each menu drop-down. I suggest this WordPress theme for any pets website. E.g. Pet Store, Pet clinic, Pet selling and adoption portal etc.
ThemeFuse – Paws & Claws Theme : Click for Demo & Price