Introducing Resume : A CV and vCard WordPress theme that includes touch of modern design and responsive layout. It was crafted by expert developer team at TeslaThemes. They have taken everything into consideration so that any freelancers or individuals who needs online presence can utilize it effectively. The theme has 4 major sections : About, Portfolio, Blog and Contact.
Read : Zero Theme Review – TeslaThemes
These featured sections are nicely visible on homepage area so that freelancers can show off personal details, work samples, latest news and contact details. The theme design is quite impressive for people who needs a creative online presence. It will not only help you create a stunning online resume site but also show your skill through creativity.
What We Liked In Resume WordPress Theme ?
The theme is kept upto it's main goal and that is to display skills, work ability and contacts in best possible way. And this WordPress theme does exactly by providing you a minimal homepage layout. You can choose what you want to display on front-page area with back-end customization panel. The combination of large bold font headings keeps user attached to your contents.
The background of each home section is optimized with colors and images. Just like TeslaThemes Resume demo, you can also pick solid color or full-screen image for home featured sections. We have already reviewed plenty of CV template but this one ranks first in our review list. There is a reason why it is more popular among people who needs personal resume website.
The theme maintains nice readability while using vivid colors, fancy fonts, hover effects and smooth transitions. It has many advanced features which gives you a flexible way to develop any type of Online CV website as you desire. Some people don't prefer to use colors or too many graphics, then you can simply eliminate them and create elegant style.
In-short, it gives you full control while making personal resume site. When you create a perfect presentation of your skills and projects then you can easily get more inquiries or job offers. Thanks to TeslaThemes for making SEO friendly and responsive layout, which plays big role to get organic visitors.
Resume Best Features : TeslaThemes CV vCard Theme
The internet is full of countless WordPress templates and you can pick any one to develop your professional online presence. But We would always suggest freelancers to pick best Resume WordPress theme and not any other blog or general template. Because, when you pick CV template then you are likely to get all necessary features that are mandatory to showcase your personal and professional details.
Apart from that, these type of websites are equipped with built in features so you don't need external tools to create online curriculum vitae site. Let's go over homepage and look around each section to get more idea on how you can use each feature.

Logo and Menu : The header includes 2 key elements with transparent background style. The right of the header space is for logo where you can place custom image to show your brand or personal identity. And left portion shows "Hamburger Type Menu Button" which let's you toggle between full-screen menu and website. We love those "Full screen Overlay Navigation" system which let's your visitors to jump between menu links. Hence, user can easily browse different page links of your website.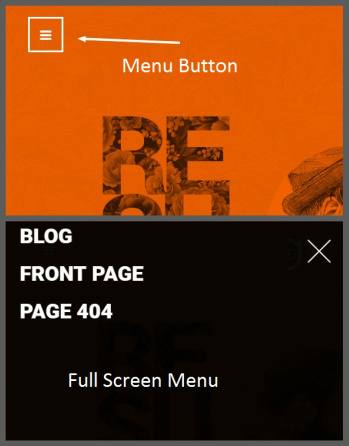 This menu supports mobiles and all touch screen devices. Being fully responsive CV WordPress theme, Resume can never discourage your visitors especially those who are using handy devices. The logo and menu (header section) is powered by floating design, so user can always see it on page while scrolling.
Details About Home Sections :
Top Intro Section : When you load homepage demo, you will see this section along with header area. Whatever background style is picked for this section covers entire introduction section and header background also. This is good section to add your Name, Photo, and some quick introduction showing your skills and specialty.
Each home section shows a "Scroll Down" button in the middle of bottom area. So clicking this button takes you to the next section. Apart from that, you will see "Section Navigation" with dotted lines on the right of the screen. This section navigation is in floating mode so it is visible all time. These features would improve browsing experience and easily taken you to from top to bottom or any area on front pages.
About Section : This section provides 3 blocks : Top, Bottom left, Bottom Right. The top section covers full width space so you can add personal details on left side and put main page templates links on right. This is good place to display links for all pages which shows different skill sets of your career. The bottom left shows a "Time Line" box which is nice place to display your work history and career progress. The bottom right space is good to display "Awards" and other big achievements.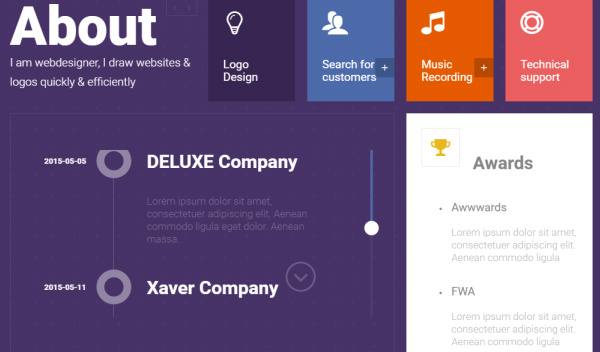 Sortable Portfolio : This is most important and very useful part for all freelancers out there. Resume WordPress theme has portfolio features powered by TeslaThemes developers. So you need little time to get all your work samples listed on your CV portal. Just pick images, photos, details and insert them into Portfolio post. And all your work samples will be visible under portfolio board.
While adding work, you can pick "Skill Set" in the form of category. So visitors can filter your portfolio board by selecting one category. So people who are integrated in Logo design can click on "Logo" category and see only samples from this area.
Blog and Contacts :
We talked enough about core features and now it's time to know how you can communicate with potential clients. The blog section will show all your latest posts using masonry grid style. You can publish tutorials or knowledge share articles and get clients by content promotion method. The last section shows contact board having contact form on the right.
The left portion has 4 small blocks which is nice place to display Phone, Email, Address, Testimonials or other stuff. In-short, this is best Best CV & Vcard WordPress Theme for all people who are searching for a minimal and best resume theme.