Meet Samantha Theme : An eCommerce WordPress feminine theme released by Bluchic. This multi-purpose theme can also work as a business website and personal blog. That means it would worth spending money on such a theme which can work for different types of websites need. The demo preview shows a custom homepage which shows a slider, featured widget sections and other stuff. Though you can select any page as your homepage or edit default frontpage in different ways.
Read : Rachel Review – BluChic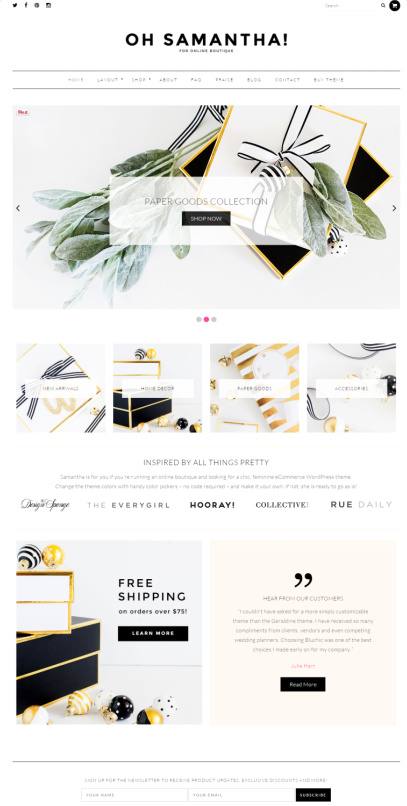 If you want to start online shop then it Samantha will require you to install"WooCommerce Plugin". This free eCommerce plugin will start an online shop within your website so you can easily start adding products. The plugin will offer advanced shopping cart, widgets and product post so you can manage your store easily. All you need to do is keep adding more products and get more sales automatically.
Read : Marilyn Review – BluChic
Why Bluchic Samantha WordPress Theme ?
We would suggest this versatile theme to woman business entrepreneurs and all girls out there who wants to share blog posts or sell products or promote services. The theme is a combo of multiple features and that's why it will meet all websites need. Macho (male) individuals can also use same theme because it has several options so you can change color skin, background, fonts and other stuff.
The theme allows you to insert a newsletter block (Mailchimp integration) near footer area so you can get lots of subscribers from your website. Apart from that you can also highlight customer's testimonials which can be useful to get news clients. The positive words from past client's can easily convince new customers and that's why Samantha provides this feature.
The homepage provides "Featured Widget" support so you can add upto4 promote widget boxes to highlight custom links, categories or any other pages. If you are a business agency or online shop then you can put your main services or product categories on main focus.
Slideshow is primary focus on homepage which is displayed on the top area below header. The slideshow will permit you to display most important posts in full-width style. You can use custom title, featured images and links with each slide. If you want to highlight new offers or special news then slider will help you grab more visitors for your important pages.
Bluchic Samantha has also given Sticky Menu so visitors can navigate to Shop,Blog or Contact page from anywhere. This advanced sticky navigation bar will be visible all the time which means user can see menu links anywhere even while scrolling. This way, you can establish a dedicated navigation system that is accessible from anywhere.
To conclude this discussion I would say that, any one who requires a minimal and professional website should try this chic eCommerce theme. It will surely help you get top SEO ranking with it's light weight design supported by HTML5 coding.
Other Features : Samantha WordPress Theme – Bluchic
Ecommerce Theme : Add/Remove sidebar from product page
Option to select number of products per row
Responsive layout to adjust anywhere : Mobiles and Desktop devices
Color selector Tool : No coding required
Sticky menu : Visible all time
Header with large space : Space available for widgets, logo, menu
Exclusive Bluchic Plugins Support
Featured Widget Area : Main Homepage
Testimonial Option : For homepage
Automatic theme updates : Regular updates
Footer widgets and menus
Flexible homepage : Add slider, featured sections and more
Logo with tag-line : PSD available for logo
Bluchic options panel
Social media widget
And other benefits