Sixteen Nine Pro Review Demo StudioPress : Minimal WordPress child blogging theme with simple yet stunning design. If you want to shine out your blog posts with beautiful image and clean typography then wait no more, just get Sixteen Nine Pro WordPress Theme. Actually, this theme has been made for bloggers using Genesis Framework, and if you don't have it already then you need to purchase framework and child theme both.
Read : The 411 Pro Genesis Theme Review : StudioPress
The WordPress market already has countess and various types of WordPress blogging themes, and this is another blog template for StudioPress genesis lovers. It combines beauty, flexibility of customization, full responsiveness and many other features necessary to create modern blog platform.
Read : Agency Pro Review : StudioPress
What We liked About Sixteen Nine Pro Genesis Theme StudioPress ?
The premium genesis child theme is made for professional bloggers so it brings all necessary elements like custom background image, sidebar on right (widget aras), navigation panel on left (to display Logo, widgets and menu links). These are the elements which makes it a unique blogging theme which also improves browsing experience.

On the other hand, Options page and built-in framework both brings large range of custom options so you can choose layout style for website, add custom widgets and more. There theme has options for SEO, Logo uploader, background image uploader, color skin selector, fonts list and more. In-short, it has big list of options to change anything as you like.
Features Review : Sixteen Nine Pro WordPress Theme
The genesis child blogging theme makes spark for readers using black and while color splashes which is most attractive part of it's design. The custom background image will be visible on right side (sidebar background area) so you will have a chance to add personalized look to your blog or website. The WordPress uploader will allow you to upload custom image for header and background which hardly takes few moments.
StudioPress Sixteen Nine Pro has widgetized sidebar visible on the right side which will accept any widget you might want to display, for e.g. Social links, Recent posts, Categories etc. The navigation bar on the left side is made of static design so it won't move while user is browsing through the page. The header is placed on left side to add some uniqueness and improve navigation mode so user can browse menu links, widgets and all header elements any-time.
After Post Widgets and Elements :
The Sixteen Nine Pro is made for authors who believes in user engagement, that's why it gives you widget space, author box and comment features. The "After Post Widget" is visible directly below article so blogger can insert any widget to display Banners, Custom text, Social links, Newsletter box and more.
Author box is fully equipped with author image box, custom text box so you can define author biography below every article. The threaded comments will further improve interaction with blog visitors so they can leave comments below posts or reply to other comments.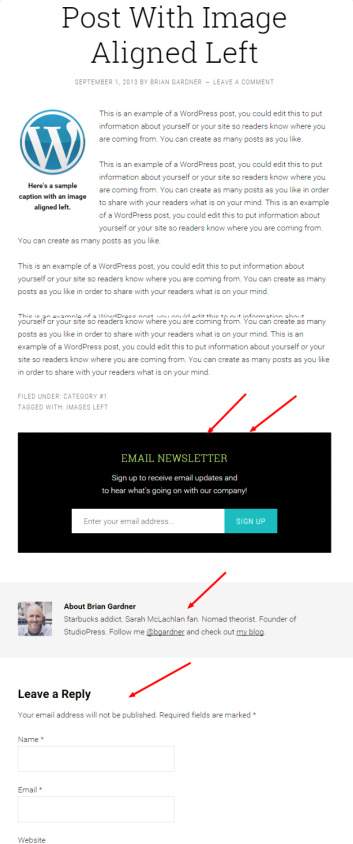 Final Words : Whether you want to launch a simple blog or multimedia blog or product review site, you can surely choose this genesis child blog template to share your knowledge with internet world.
All Features : Sixteen Nine Pro StudioPress
Genesis 2.0 + Framework Support
Fixed header : Left side (Logo, Widgets, Menus)
Vertical menu-bar on left side
Custom background image uploader : Visible behind sidebar
Elegant body section : Black font
Best color splashes to improves readability
2 Layouts : Full width, Content/Sidebar(right)
Fixed width
Theme Options : Full control from one place
Many widget areas : Home, Sidebar, Below post, Footer
Custom Header
Price Plan :
Child Theme + Genesis Frame-work : $99.95