Stylebook Review : Gabfire released this Magazine WordPress Theme not only for single purpose but for all purpose. Stylebook WordPress Theme was the first news magazine theme that was made of wide content friendly homepage layout. When you open demo of this theme, you will feel like reading a magazine or newspaper in your hand. The homepage has so many widgets columns, category sections, slide-show, carousel and other elements which really makes it must have WP theme for all those people who are planning to start new website or wish to change old theme for new look. Working over Stylebook is a fun and you can modify layouts, design, color and everything from the central theme options panel. The options page has sections based settings so you can locate styling settings, general settings, SEO settings in correct order with ease.
To run a website platform or blog with Stylebook WordPress Theme, you don't need to have coding knowledge or any professional experience with website management. Built-in elements like custom post formats, widgets, short-codes, slider can do a great job without spending long time. Your responsibility will be to only add content and publish them under right category, rest of the things will be managed automatically. Recently Gabfire updated it's framework "Bootstart", so now it has become easy to bring any latest features with Gabfire themes. Some of the main benefit of this powerful framework are responsive layout, custom homepage design, various page layouts, W3C valid clean coding and more. Every thing is available in this news theme, you just need to enable option to bring that functionality into your news or magazine theme.
Stylebook Theme Remarkable Features :
Advanced Navigation : The Smart Navigation included in Stylebook WordPress Theme will not only simplify navigation on the website, but also encourage readers to stay on the website for long time and browse more contents. The navigation system works same like "Mega Menu" system, it is divided into two sections the first is "Sub navigation" links and second column will show most recent entries from the parent category, with featured image and title. If we take visitors perspective in consideration, then we can assume that this type of creative navigation system may allure site visitors to access random categories displayed on menu-bar. Featured sections highlighted around website is a best companion for the lazy surfers, and it keeps them browsing around website.
Carousel Bar : You must have enjoyed the power of carousel with many news and magazine themes, Stylebook WordPress Theme has a responsive carousel. This way it will not fail even on the mobiles and other internet instruments. There are many benefits of this elements, first of all it can keep scrolling automatically or visitors can scroll contents with arrows. On the other hand you can big amount of contents without thinking of space limitation. It is optional so you can add it or remove it at your choice, but most of the site owners prefer to use it.
News Ticker : Stylebook Magazine WordPress Theme has it's a breaking news ticker to promote text headlines under menu-bar. With the help of News Ticker you can highlight news headlines from selected post, tags or categories in automatic scrolling mode. It is same as you see on the news channel on TV, where text news headlines keep scrolling or flashing to get attention from the readers. The scroll buttons (arrows) are given on the ticker bar so that user can manually scroll back or forward to find particular headline. The text news headlines re linked to the news post so that people can click and open news page directly.
Featured Slider : Gabfire has taken slide-show element to the next level, hence you will be able to display multiple posts. Stylebook has advanced Featured Collage Slider gives you two sections, first columns with single post and second column with 3 college to display recent posts from that category. Slider transition mode in default design looks very smooth, you can change them with other transition styles from options page. The option to select transition time, category and other things are provided on slide-show options page. Whether it is video, image, news post or anything you will never face limitation to display them on slider.
Stylebook WordPress Theme would be right choice for all people having dreaming of starting their own news and magazine where content posting and browsing is flexible.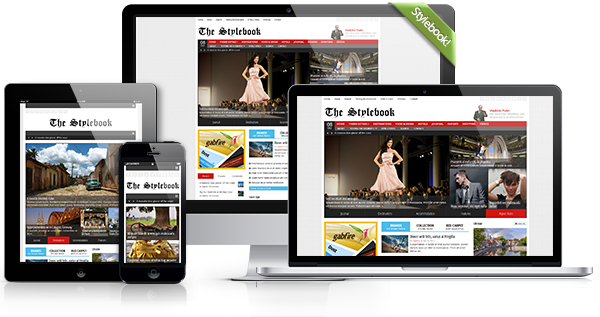 Stylebook Basic Features
SEO compatible clean coding
Responsive : Works simply on Tablet, Phones and PC
Footer widget sections
Sidebar widget areas
News ticket to display main news
2 menu navigation bar
Menu-bar with featured columns and links
Featured collage slide-show box : 1 Main post + 3 Other posts (Tags, Categories)
Show Date / Month on menu bar : E.g. "8 OCT"
Homepage design : Wide 4 columns section
Price Plan :
Standard Pack : $59
Developer Pack : $179 (3 Free Bonus Themes)