Svea is a clean and very stylish premium Portfolio & Blogging theme from Northeme. We have checked this theme from demo preview and found many unique features for creative bloggers and agencies. The theme takes care of every thing from page styling, single post view style, fonts, and other stuff from options panel. No more need to follow restrictions it terms of design and layouts. You can switch to any style for header, pagination and other elements.
If you are thinking to select a best multi-purpose WordPress theme then now is the best time. Just read this review to check out all top features which makes it a best theme for portfolio and blogging needs.
Svea WordPress Theme : Features View
Fonts and Colors : This versatile template is released for professional agencies and stylish designers also. So it is coming with bunch of Preset & Custom Skins that includes : Light, Gray or Dark options. You can make color skin, background or any other choice from options panel. Ready options are visible to choose color styles and background.
Same way, you can manage to edit font style from Northeme options panel. It gives you full support for google web fonts so you can change font style for body and header area.

Posts Page Layouts : Svea WP theme provides variety of choices to setup for post listing pages. So you can choose single, two or combination of both layouts for blog and portfolio pages. The single layout only shows one column and two columns shows multiple columns. This way, you can try and test different layout combination's and set the best one for listing pages.
If you enable Black and White effect for website then yo will see all images in black and white. Placing the mouse over any image will highlight it in original color style. This is how you can present content in unique way and also impress visitors with clean presentation style. Being responsive for dynamic screen types, this portfolio theme adapts to all devices including tablets and mobiles.
If you resize browser window in live demo then you will see that header menu, featured posts, videos and single posts easily resize to screen size. This is what boosts browsing experience and SEO rank too.
More Features Details: Svea Northeme
Header Section : Any page that you will find in demo will show you 3 main sections for most of the pages. The top area (before content) of every page will gives you space to add custom page title and excerpt to add details. The excerpt is mostly used to describe about content types that you will see in the page.
For blog and portfolio pages, you will see categories link bar so user can browse posts from given category bar. Each section is optional and yo can adjust header according to your need for all pages. The excerpt section helps you to add plain text as well as HTML or custom short-codes. The maximum header width is also manageable from theme options panel.
Thanks to Svea WordPress theme for offering flexible page headers which creates nice way to introduce each page in unique way. So visitors can not only know what they will see but also decide if you should check current page or jump to another section.
Portfolio & Blog – Single Post Layouts : Just before a few moments, we talked about listing page layouts. Now, we will check details to setup portfolio and blog post layouts. Traditional WordPress themes provide simple one column layout to display blog or portfolio post contents. But, Northeme templates provide you freedom to choose 3/4, half or full width style.
If yo work with portfolio then you will fund masonry grid and custom post types support. Same way, blog section also offers media post formats for modern bloggers. You can also add related posts, next/previous items and other elements below articles. The sidebar and footer widget areas are available with full support to display any widget contents like banners, recent posts, and more.

Other Unique Elements : Svea Portfolio Theme
Header & Menu : This section is setup on the top of the website to display brand logo and navigation links. While setting up top area, you can display Logo, Menu and Search option. The logo can be an image or text showing your brand identity. The menu bar is good place to add primarily links for main pages or categories. The search box is used to insert on site content search feature.
The options panel allows you to manage header alignment, and logo/menu position. Svea WordPress theme also provide option to setup navigation menu using classic menu or Hamburger icon.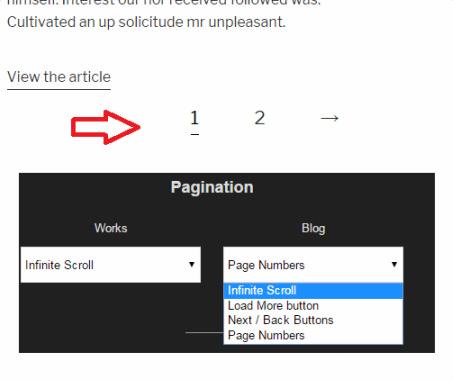 Pagination Types : Northeme has developed 4 pagination types options for this portfolio blogging theme. So authors or agencies can choose traditional or modern auto content loading features. If you prefer to offer traditional manual pagination then you can choose Numbers or Next/Back buttons. If yo choose Infinite scroll and "Load more" button then you can speed up content browsing speed. It will use Ajax to fetch and load contents without entire page refresh.
On checking demo, you will find Infinite loading pagination with portfolio and numbered pagination with blog page. We recommend this WordPress theme to creative designers and content marketers who needs blog type website.
Northeme – Svea Theme : Click for Demo & Price