The 411 Pro Review StudioPress : A genesis Child theme for bloggers, review writers and authors who wants to display their articles in appealing style. StudioPress The 411 Pro WordPress Theme has been crafted with some unique blog features that will not only improves content presentation but also boost browsing experience with it's amazing navigation bar. There are several widget areas available in this theme so that you can display social links, advertisement banners, autor box and other elements with your articles.
Read : Streamline Pro Review : StudioPress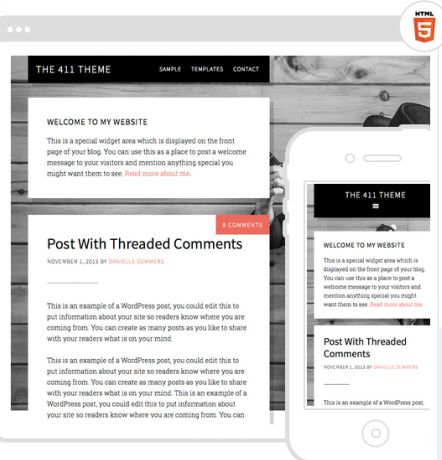 Why The 411 Pro Genesis Theme ?
The latest version of this WordPress blogging theme was released with many changes so that use can take maximum benefits of latest WordPress features. For e.g. WordPress custom post type is latest feature added in blog template made for genesis framework. As a result user will be able to publish articles using two unique post types : 1) Standard and Quotes.
Read : Generate Pro Review : StudioPress
Moreover, StudioPress 411 Pro WordPress Theme provides you with several widget sections to place desired contents to increase page-views. For e.g. After Entry widget block is useful to display widget block below articles which may be Call to action block, Newsletter block or some advertisement banner. Other widget sections are home top area right below header so that you can place welcome message or anything by adding custom widget.
The 411 Pro Blog WordPress Theme : Features
The genesis bloging theme has got all qualities that must be available to attract readers. For e.g. welcome message box at the top of homepage to impress visitors, Post display options (full port or short post with excerpt). It will even resize your images using responsive feature so that mobile readers can enjoy viewing photos, videos and other stuff according to their screen layouts.
The WordPress blogging theme for genesis framework is said to have best header navigation that looks clear to visitors. That means, visitors will not render here and there top find categories, contact page or any important part of your website. Once you enable social media widget, it will display social media links on right side of the screen in sticky mode. As a result, visitors will be able to see it all the time even when they are scrolling posts or pages.
More Options : StudioPress 411 Pro
The background image visible on The 411 Pro Demo is uploaded from back-end area and you are also free to customize background with your own image or color style. The blogging theme for genesis gives you options to customize header and body background with your own style. Moreover, posts or articles will be displayed in boxed style so it will look clear and perfect to readers. The articles will look readable and attractive with elegant or colorful background, you are free to choose custom layout style for posts and pages.
CONCLUSION :
The The 411 Pro Theme is a premium WordPress blogging theme which brings breadcrumb feature, SEO friendly design, threaded comments, custom post formats, styling options. All these features in combination will improves visibility of your blog platform so you will have more readers and lots of page-views from visitors.
If you are searching for a WordPress blog theme to make readers stick to your articles then you have come to the right place.
The 411 Pro Standard Features : StudioPress
6 Post and Page layouts : Full Width, Multiple sidebars, Single sidebar (left/right)
Theme Options Panel : Control style, homepage, header and everything
Custom Widgets :  Featured posts, Featured page, MyTweets
eNews and user profile widget
Author box : below article
Navigation menu : Drag and Drop
Post thumbnails
Widget Areas : Home top, After post, Sidebar Footer
BuddyPress support
Localized : Easy language translation
Custom Logo : Image/Text option
Post thumbnails : Auto resized
Custom posts : Quotes, Standard
Custom background : Make your blog look fully personalized
Boxed post : Featured homepage
Price Plan :
Child Theme + Genesis Frame-work : $99.95