Meet Tiffany, A WooCommerce WordPress theme for designers, bloggers and women entrepreneurs. It is very creative feminine theme powered by Bluchic, and it works for multiple needs. The theme can help you create custom homepage where you can either display tiled banners (like demo) or latest blog posts or whatever you like. You just need to setup homepage, blog page, shop page as you like.
In our opinion, any female bloggers and good seller should use this theme to create a unique identity for the brand. If you really want to let your creative side come out then use this WordPress theme.
Tiffany Bluchic WordPress Theme Features :
Banner – Tiled Homepage : Before we talk about any other feature, let us talk about homepage design. The one you see in demo shows 5 square banners on the homepage. So this is great place to highlight Blog, Shop and other pages on your site. In order to setup these banners, you have to activate this section from options panel and then you can start adding new banners from back-end.
The banner listing editor asks you to add Title, Custom URL (for page or any external link), and Featured image to attract visitor's attention. The buyers should be happy as Bluchic has offered Photoshop file of gold stripe banner images. Hence, you can edit those banners with your own text and use them to link blog, shop or any other page.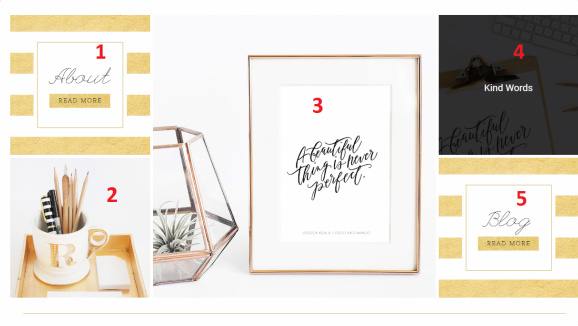 Menu and Header : The top area of Tiffany offers quiet different header compare to regular WordPress themes. The top header region provides support to add custom header with brand logo. The header PSD is already provided so you can edit it as you like and upload for header. Apart from that, you will find "Hamburger Menu" that provides button having three horizontal lines. This menu button is placed on the left top corner so user can see menu links by clicking this mobile friendly menu button.
Under this menu, you can add links to main pages, blog categories or whatever links are important for your site. As a result, user coming to your website can easily visit homepage, shop, contact or any page.
Bluchic Other Best Features :
WooCommerce Support : Any ladies who wants to sell cloths, crafts, photos or services can use WooCommerce plugin with Tiffany. Once you have configured this plugin as guided in documentation then you can start a shop section within your website. The WooCommerce provides custom widgets, listing options, cart support and much more. So you don't need a programmer to configure payment gateway or to manage any part of the store.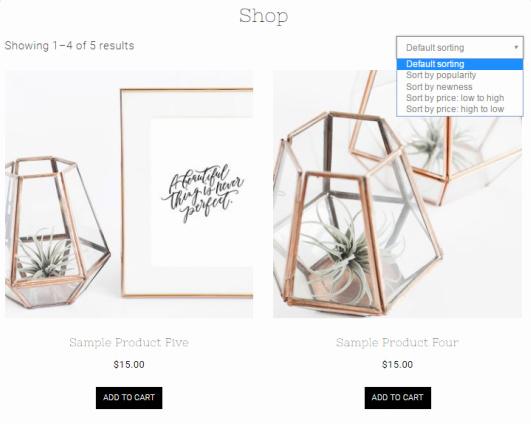 Blog and Banner : Both of these terms are relevant to each other and that's why we are going to discuss them together. This Bluchic WordPress theme has blog template with multiple layout options. So chic bloggers can easily setup a blog section with sidebar on left or right side. At the same time, you are getting custom widgets to display Author, Social links, Recent posts and more.
Tiffany theme is powered by modern monetized layout so you are getting banner spots within site. Therefore, store owners and bloggers can display advertisements on the top of header or below posts. If you are not promoting adsense or any affiliate program then you can use banner areas to display newsletter signup banner image.
Other Blog Features : Modern bloggers are going to enjoy using various blog layouts which has been integrated in Tiffany. Therefore, authors can choose to display full posts, excerpt posts or grid posts. These are the different styles to highlight all your posts on blog page. Along with that, you can choose to display sidebar widgets on left or right.
The single post shows related posts, author box and comments option on bottom side. You can also display next/previous articles, banner and author signature with all blog articles.
Conclusion :
Other Features: Like all Bluchic WordPress themes, this theme also gives you social media support. Hence, website owners can promote social links on footer area using custom icons. You can also use social widget to highlight social presence links on sidebar and other widget areas. Apart from that, it provides Newsletter signup support for Mailchimp and other email management services.
Tiffany theme provides Schema support with best SEO friendly layout. Once you purchase this WordPress feminine theme then you don't have to pay extra fees. It offers Support & update and Documentation.