MyThemeShop Video Theme Review : Introducing best video WordPress theme for video bloggers who are using video as main content. The premium video Template is good choice for modern multimedia bloggers like product reviewer, affiliate marketer, video blogger etc. If you search for a best video WordPress theme on google then you may find several options but not all of them are fully optimized from all direction. When it come to speed, easy embedding, SEO ranking, customization they all fail at some point.
Read : Magazine Theme Review – MyThemeShop
Video WordPress Theme MyThemeShop : Advantages
The video WP theme has lots of great features which makes it user friendly video blog solution for video bloggers. The options given for video thumbnails, "Watch it later" button, video play-lists, "Like/Dislike" makes it more interactive for visitors. MyThemeShop Options panel makes gives you option to add social sharing buttons with your posts, so visitors could share best videos with their friends and followers. This way your video posts will automatically get social signals when it is shared to social websites by visitors.
Video Theme MyThemeShop : Features Review
While selecting a best video WordPress theme for your new blog or website you should always check out core features. Because these are the features that plays important role in content publishing, blog settings and all other necessary customization operations. Let's check out what are some remarkable features of this WP video template.
Optimized Homepage Layout :
From what is visible in Video theme demo one thing is clear that homepage section has several featured sections to attract visitors attention. The top featured section, new videos section, most popular section are homepage blocks that highlights various videos on homepage. This type of content friendly homepage will keep your visitors watching videos on your site for long hours.
The end result will bring you increase page views, more advertisement revenues and great value for SEO.
Watch Later Feature :
This video theme by MyThemeShop makes a perfect way for the website visitors where they can mark videos as "Watch It later". This unique "Watch It Later" button is visible on post thumbnails when mouse is hovered by visitors. All these videos marked with as "Watch it later" button are accessible from menu-bar. This way a user can search and collection best videos of his choice at once and later on he/she can watch all videos.
If you are searching for a video that having best user friendly options then this is the best video template for WordPress bloggers.
AdSense Optimized :
The Video WordPress theme has some best adsense optimization options so all those bloggers who are using adsense as their earning method could take maximum advantage. MyThemeShop Options Page has custom advertisement settings dashboard so that user could easily configure adsense from single location. You will be free to display ads below title, below posts and other places.
It is also optimized for affiliate marketers who may want to display promotional banner on sidebar and other widget supported areas. So this theme is also known as best adsense optimized video template.
Social Share :
The social sharing option button displayed below every video makes this theme a socially optimized video theme for modern blogging. When a user is accessing video posts from your video blog he/she will find a button "Share". Clicking this button will display pop-up social sharing options list with Facebook, Twitter, Pinterest, Tumblr and other options. Just besides sharing button you will find Like/Dislike button which makes it look more and less popular with it's total likes / dislikes count figure.
Playlist Options :
I don't know how other reviewers would see this option but personally I find this option as highly valuable part of this Video theme. You must have seen various YouTube videos with play-list displayed besides video. Having displayed a related videos playlist with every video you can keep visitors watching different videos on your website which is great for SEO and adsense revenue both. The "Playlist" highlights related videos to the viewers and therefore user will not fee like to leave your blog instantly.
The premium video template will display list of related videos below all articles, and this option can be enabled/disabled from MyThemeShop options panel.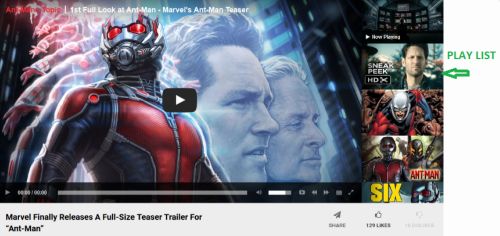 MyThemeShop Video Theme : Verdict
It's not hard to find a premium or free video WordPress theme on the internet, but when it comes to find responsive and modern video theme a person may get confused. This confusion happens because bloggers are sometime not sure how to select best video blog theme and therefore MyThemeShop have introduced a video template which provides A to Z features which simplifies video embedding, video sharing, ads integration, customization and more.
This theme is suggestible to gaming video bloggers, affiliate video reviewers and those stylish bloggers who loves to share funny or viral videos on their website.
Video Theme Features List :
Video Post Format : Embed feature, Video Player and other video features
Bold and Dark menu-bar : Display Home Link, Tags, Categories, Drop-down category list
Multiple featured sections on homepage : Display all videos (Latest, Popular)
Best Features : Watch Them Later, Like/Dislike, Video Play list
Face-book Comments : Easy way to leave comments
SEO Ready : Rank video posts easily
Highly responsive layout : Responds on tablet, smart phones
Display Views : Automatic (for YouTube embedded video) or Manually (self hosted video)
Display playlists with articles
Featured Image : Select best image for video from preview
Video runtime progress bar
3 Homepage Layouts : Full Width, Sidebar on left or On Right
Schema integrated : Let search engine understand what content you are sharing
Price : $45