WeddingEngine is a premium wedding WordPress theme from EngineThemes. This theme is powered by front-end customization features so user will save lots of time taken for customization process. It is supported by user friendly content editor so you can in-put desired content modules on homepage and other areas. This theme boasts elegant design so that wedding websites will look awesome with photos and beautiful typography.
Visit : MicrojobEngine Review – EngineThemes
The theme consist of total seven blocks which covers everything that should be available in a wedding site. If you don't know any programming language and still want to start and maintain your own wedding site, then you must buy this premium template from EngineThemes.
Content Blocks : WeddingEngine Theme
Countdown Timer : The demo preview shows an advanced header sections that provides ample space to display logo, tag-line and timer. You can upload image logo with bride and groom name or simply enter text from back-end. Hence, any one who visits your website will see name of couple and other stuff. The next is countdown timer section which appears below logo. The timer shows a real time clock which shows remaining Days/Hours/Minutes/Seconds.
Read : ClassifiedEngine Review – EngineThemes
The header section comes in floating mode so that visitors can see menu-bar, logo and timer while scrolling through page. Thanks to WeddingEngine for offering menu button which shows menu-links only when user clicks the button.
Share Video/image : A website is not complete unless you show-off some relevant images and videos. We all know that media items can talk to viewers and can leave good impact. That's why, EngineThemes has offered flexible modules so you can display your videos and beautiful pictures with on homepage and other parts of the website.
Wedding Events : Add different events on your website so that guests can get details about all events and confirm them with RSVP system. Most of the weddings includes Engagement Party, Wedding Party and other ceremonies and this feature will help you to add all events with location and event details.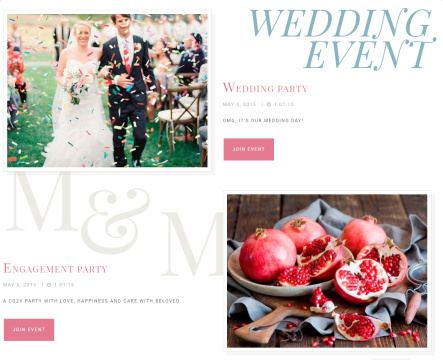 This way, your guests can confirm all event details from website. It will save lots of time that is taken to share invitation card to every single person. Just create a website and share link with all friends and family members.
Add/View Wishes : This section is given for guests and visitors who are going to attend your wedding. WeddingEngine WordPress theme provides a custom wish form where user can fill details and leave wish words for new couple. Then all wishes are displayed on wish page and homepage area. We liked the fancy border used around wish box so that visitors can see all wishes in beautiful way.
The wish section is wide enough to display 4 wishes in single row and visitors can see more wishes using numbered pagination button. The wish section has special form that accepts wish message along with name and email.
RSVP Form : This is very useful guest management module that allows you to send invitation to guests. This RSVP form will collect all details about how many people are attending your wedding and different events. The form will ask user to fill their name, contact and other details. It will ask your guests to choose all events or tick those events they can attend.
It will then collect all information (entire guest with full details) so you view confirmed guest list from front-end area (if already logged in). Then you can provide that list to your wedding manager for further arrangements like hotel booking and other stuff.
Blog Layout : WeddingEngine theme is definitely powered by advanced wedding website management features but at the same time it also keeps all basic features in the package. Hence, couples can share their message, sweet memory photos, stories and other stuff with other people. Blog section is an open place where you can share articles which could be some announcements, surprise, media items or anything.
Blog template allows you to share excerpt with featured images so readers can browse all stories easily.
Personalize Website :
As I just said earlier that EngineThemes provides easy to use front-end customizer so that administrator can easily edit every content section easily. The customizer allows you to edit every part of the website which is great for novice users. You can utilize built-in header and footer to add your own wedding signature.
WeddingEngine theme gives you wide range of color skins so you can apply right colors for heading, background and sections of the website. Customizer is best tool which enables you to edit styling, fonts, background, homepage design, header and all other stuff. It gives you wide range of sections so you can edit all elements while watching changes in preview box.
The only purpose of this WordPress wedding template is to help you create your own wedding website easily, without requiring big expertise or 3rd party tools. Just one click is required for theme setup and it will take you through step-by-step guide to help you install WeddingEngine.
If all these features are given in reasonable price then every one should try it.
All Features : EngineThemes
Add content blocks easily : As shown in demo
RSVP form : Manage wedding visitors easily
Advanced mobile ready menu : Button on top right of the screen
Auto email notification for guests
User friendly control panel : Stay back from coding or complex work
Fastest loading time
Built-in slider
Mobile optimized theme
Localized feature : Translate into native language
All browsers support
Yoast SEO plugin support
Detailed PSD files provided
More color skins will be available in future