Review : TastyFood by Magazine3 is a clean responsive WordPress food blogging theme also supported for lifestyle blogs. The minimal blog theme has no restriction for usage so you can use it for food as well as other niches like traveling, technology etc. The capability of showing lots of contents on homepage makes it unique than other out dated or free blogging themes. Thanks to Magazine3 for adding multiple header navigation to display wide range of blog categories and page template links. The excerpt mode is used to display new articles on front-page so you will save lot of space and display more articles on homepage and all previous pages. For advertisement, social media linking and all other purpose it has several widgets, so you can pick them add add for footer, header, sidebar widget areas.
Is TastyFood Theme Really Best ?
There is no doubt that this clean blogging theme is best for all types of needs. Whether you want to share simple articles or multimedia posts you will always get support to embed gallery, videos and other modern contents. Not only that, it is also improved for advertisement so you can monetize your blog for better earning. The TastyFood WordPress Theme can make good earning for affiliate bloggers or content bloggers who wish to choose google adsense or other ads program to make earning. The blog template has layout options like full-width, sidebar on right, sidebar on left etc.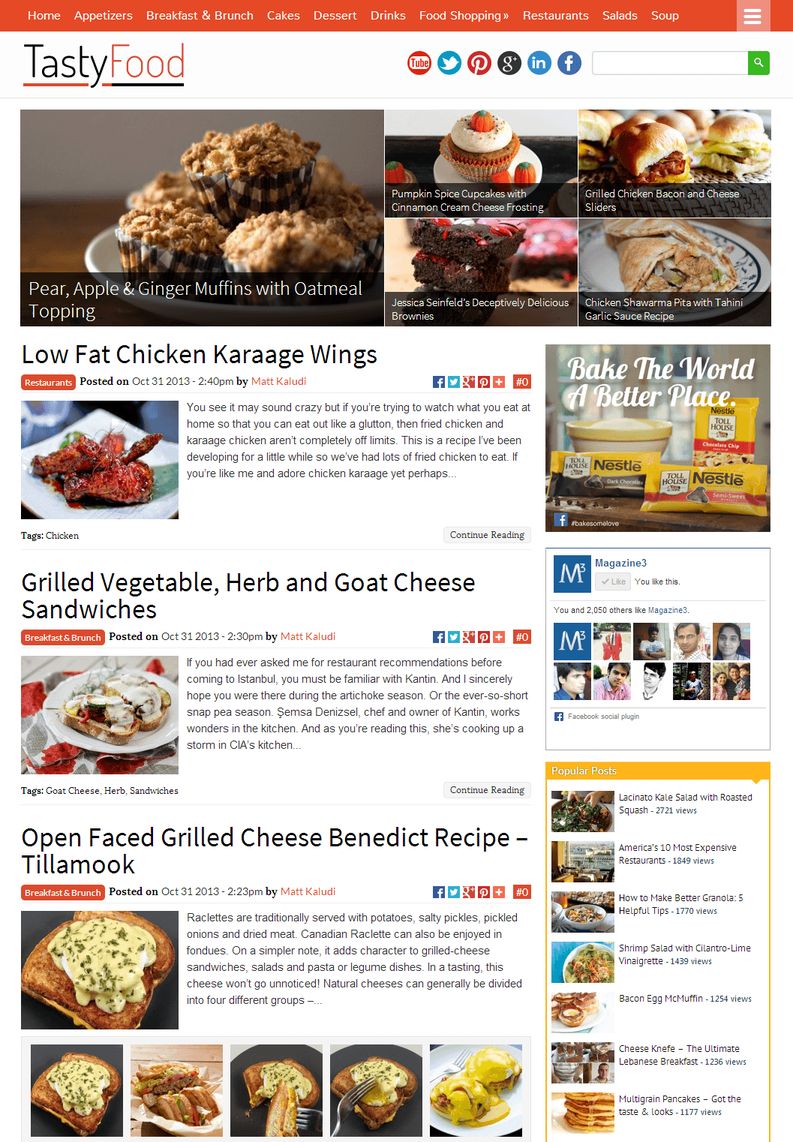 TastyFood WordPress Theme Unique Features List
If we go ahead to describe every feature in detail then it will take long time, so we will only talk about some main features that really matters for a blogger. The remaining standard features will be mentioned at the end of this article. The article provides you link to product page at the end of this page so you can get more details and demo link for this premium blogging theme.
Stylish Navigation
The overall theme design is clean yet attractive, whatever color skin you will choose for your blog will be used to highlight menu, taxonomies and other main areas. Magazine3 TastyFood WordPress theme comes with two unique menu options, just look over demo page and see you will find an attractive menu-bar having category buttons. You can also customize your own menu section by selecting main categories and add child level category links in drop-down. Magazine3 has also provided an app like menu button on the right top corner where you can add links to important pages (About, Contact). The colorful background applied to navigation bar makes it eye-catchy and therefore you can expect visitors to notice your menu-bar for sure.
SEO Friendly Coding and Design
TastyFood WordPress Blogging Theme has been made from new clean and powerful web coding standards for better performance. It has valid HTML markup which has become necessary for SEO ranking and design validation. HTML5 and CSS3 codes are utilized by Magazine3 developers so your blog runs with better smoothness and can rip benefits of SEO friendly design. The theme homepage and menu navigation is developed in proper way so all major search engines will easily crawl and index your contents on their search results. The ranking depends on several factors so we can't say that all your articles will rank on top. But, one thing is sure that you won't loose any SEO score for design and navigation test.
Top Featured Section and Pagination
Magazine3 programmers are very smart, therefore they have provided special featured section at the top of the page with ability to display 5 posts. The articles you will select to display in featured section will be displayed using featured images. TastyFood WordPress theme will generate images from posts that you will pick from your current articles collection. The main article will be displayed with little big image and other 4 articles will be displayed with small equal size. Most of the blogger use this section to highlight highly popular articles or some promotional offers to make extra earning. The Pagination is also optimized in unique style with large fancy buttons used for pagination bar. Some people considers these features as a basic elements, but in mu opinion it would have big impression on the readers.
Conclusion : TastyFood Review Magazine3
TastyFood WordPress theme design will highlight your consents as well as social media links (top header) so that you can have more readers and followers. The search widget, social widget, recent posts widget and other Magazine3 widgets will improve your blog communication with readers. The demo view is just provided for the sample purpose, so you can either follow it or make changes in default design. Widgets, Menu, Footer, homepage are all customization from options page. Moreover you can also make changes in blog layout, color skin, font style from Magazine3 Options. This premium blogging theme is best choice to create professional blog that really work for today's need.
TastyFood Theme Basic Features
6 Ads ready location : On/Off buttons
Responsive Blog Layout : Looks right on mobiles
Homepage Main Article Featured Section
Latest Articles on Homepage : Featured Thumbnail + Excerpt
Advanced Options : Add Logo, Change color, Menu etc.
Custom Templates : Full width pages, Archives
Custom short-codes and widgets
Works over latest browsers
Price:
Signal Pack : $59
1 year Membership : $249 (Access to all Themes)